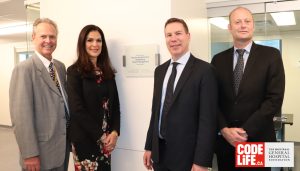 The Montreal General Hospital Foundation (MGHF) is seeking a dynamic professional fundraiser to join our team in the role of Development Officer. Reporting to the Senior Director, Major Gifts, the Development Officer will be a key member of the Foundation's team and will join a dedicated group of energetic professionals working to position the Foundation for future growth and success as a leader in healthcare philanthropy.  The incumbent will contribute to significant growth in our corporate giving portfolio, soliciting intermediate gifts by fostering strong relationships with individuals and corporations, as well as with key volunteers.
An energetic and enthusiastic professional, the Development Officer, will be an organized and self-driven individual, with strong interpersonal skills to be confident and comfortable reaching out to a diverse group of donors, corporate decision makers, volunteers and medical professionals.
At ease in a fast-paced environment, the Development Officer will have demonstrated fundraising experience with a track record of success in cultivation, solicitation, and closing gifts preferably in the non-profit sector or in business development in the private sector.  He/she will be an effective fundraiser or business development professional who is a team player and values collaboration.   He/she will be comfortable using a donor database and will embrace our data-driven approach to tracking and reporting. The Development Officer will identify new prospects by making thank you calls, research and fostering an intermediate donor portfolio. The incumbent will play a key role in continuing the strength and development of relationships between the Foundation, loyal donors, corporations, volunteers and other key stakeholders, which are instrumental to the Foundation's ongoing impact on patient care.
MGHF offers a hybrid work model. A minimum of two days per week would be expected to be in-person at the Foundation's office at the Montreal General Hospital on Avenue Cedar in downtown Montreal.
About the Montreal General Hospital Foundation
Established in 1973, the Montreal General Hospital Foundation's mission (MGHF) is to provide vital support for vital care. The Foundation is mandated to raise money, manage significant funds and invest responsibly in healthcare research, training and technology at the MGH, the MUHC and more broadly, within the McGill academic health network. We work closely with donors and dedicated collaborators to raise awareness and foster excellence in vital care to all patients, present and future.
Over the last ten years, the Foundation has invested $150 million in support of patient services and research and during the fiscal year 2021-2022 period, our donors generously contributed $21.4 million to fund our work. In the last fiscal year, our community's incredible generosity combined with the hard work of our foundation team resulted in us achieving an administrative expenditures ratio of 7.8% – (based on the Canada Revenue Agency T3010 rules), well below the Canadian average for large hospital foundations.
In keeping with the wishes of donors, the funds raised by the MGHF go toward supporting leading research programs, acquiring cutting-edge equipment, and helping medical teams with their priority needs. Its strong relationships with the various stakeholders of the healthcare community have made the MGHF a valuable partner when it comes to advising donors as to where investments should be made and advocating for the important investments that donors provide. The MGHF supports a variety of projects at the McGill Network and other establishments.
Campaign Code Life: vital support for vital care
The CODE LiFE campaign is a $100 Million, multi-year fundraising campaign, launched in November 2018 and closed successfully in December 2021 with a total raised of $110 Million.
CODE LiFE is our pledge to support vital care and our expression of respect for the precious nature of life. It is the symbiotic relationship between our donors' desire to make a real difference, and the informed and unbiased selection of priority healthcare projects to support.
Through Code LiFE, we seek to protect, heal, extend, and save lives in all the medical institutions with which we are affiliated. Ultimately, we seek to foster the medicine of the future through research, prevention and technology.
Watch our video about CODE LiFE: $110M Raised!
Financial Report
 We are so grateful to our community and partners for their incredible generosity. In the last fiscal year, from April 1, 2021 to March 31, 2022, we raised $21.4 million in donations! Once again, major gifts accounted for a large portion of revenue, as did annual gifts and estates. Every gift counts, regardless of type or size.
Our strong financial management has also resulted in an additional $4.6 million in net investment income and $0.5 million from other revenues, for a total of $26.5 million in FY 2021-2022.
The pandemic made us all realized the importance of research to protect the health of our community, and to provide vital support for vital care. This is why we provided $6.3M in support to research and $1.4M in education for furthering the knowledge of our medical teams. Taking care of our patients is a high priority: we allocated $6.6M  to support patient care and improve patient experience.
Once again this year, we are proud to have maintained a low ratio of administrative expenses to total revenues of only 7.8%. All of your donations are used to meet priority needs, as administrative expenses are covered by our investment income.
Additional Background and Resources
 About the Montreal General Hospital Foundation
Financial Statements 2021-2022
Key Areas of Responsibility
 A key part of the Development Officer's tasks will be to secure corporate sponsorships as well as individual major gifts (a minimum of $100k or more pledged over a 5-year period) from current intermediate gift donors ($5k to $10k per year or more).  The new incumbent will identify, qualify, cultivate, solicit and steward corporate and individual prospects and donors in order to support the core funding priorities of the MGHF.  As such, the Development Officer will:
Proactively manage a pool of current and potential corporate sponsors in support of the MGHF's Flagship events and priority projects, which have major potential for corporate visibility. In addition to corporate donors, the prospect pool may include individual donors and foundations where appropriate.
In collaboration with the Senior Director, Major gifts, develop and implement solicitation strategies to ensure the progression of intermediate donors toward a major gift ask.
Identify high-interest donors through thank you calls and lapsed donor pools, volunteer engagement, and research in collaboration with the Annual Campaign and the Development teams. Ensure appropriate recognition and ongoing stewardship of intermediate donors and corporate sponsors.
Help maintain the donor database by entering contact reports, briefing notes, updating donors contact information, entering follow-up actions and key point-of-contact.
Keep the prospect pool updated with identified leads, donor interests and pertinent information.
Initiate calls, hospital tours and face-to-face visits with prospective donors.
Qualifications and Competencies
Demonstrated fundraising experience or relevant business development experience with a proven track-record of success in developing corporate and individual donor relationships, and growing intermediate gifts ($5-$10K per year or more) to a major gift level ($100k or more over five years).
A minimum of two years of experience in a similar position or a relevant business development role.
Superior interpersonal skills to develop and maintain a broad range of relationships as well as engage and inspire stakeholders both internally and externally.
Experience in engaging and supporting volunteers for fundraising.
Excellent verbal skills in French and English are required, as are proficient writing abilities in French and English.  At ease with presentations and a proven ability to relate to diverse groups of people with effective and articulate communication.
A high degree of personal integrity and tact.
A strong work ethic, combining energy, enthusiasm, tenacity, initiative, resourcefulness and solid organization abilities.
Experience in working with a donor or CRM database.
A university degree is required or a related mix of education and fundraising experience.
Other desired characteristics:
Intuitive with people and thoughtful about interpersonal interactions, sound judgment and high emotional intelligence.
Solid observation and listening abilities in order to digest information quickly, within a multitude of fundraising initiatives and a diverse pool of stakeholders.
For More Information
KCI (Ketchum Canada Inc.) has been retained to conduct this search on behalf the Montreal General Hospital Foundation. For more information about this leadership opportunity, please contact Sylvie Battisti, KCI Vice President, Search + Talent by email at MGHFDO@kcitalent.com
To view the full position brief, please visit www.kcitalent.com
All inquiries and applications will be held in strict confidence.
Please send your resume and letter of interest to the email address listed above by March 24, 2023.