IBD Educational Event (free, via Zoom)
A free educational session on IBD organized by the McGill IBD Research Group.
---

The brain-gut connection and its role in IBD management 
May 18, 2023 
7:30 pm
A link to view the talk will be sent to your email in advance of the event.
This lecture will be given in English

Guest Speaker: Dr. Kimberly Carrière, Clinical Psychologist at the MUHC IBD Centre at the Montreal General Hospital
This evening is organized by the McGill IBD Research Group in collaboration with the Montreal General Hospital Foundation.
Registration is required in advance.
Our guest speaker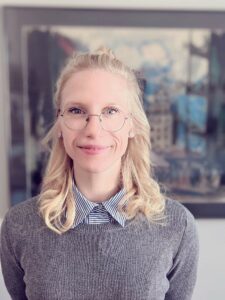 Dr. Carrière is a clinical psychologist at the MGH IBD center who specializes in the gut-brain connection and its implications in digestive disorders. Her work is multidisciplinary in nature and is informed by a biopsychosocial model of care.  Dr. Carrière's primary interest lies in better understanding the influence of traumatic experiences on the exacerbation of IBD symptoms and its ongoing management 
Don't forget to register and share this event on your social networks!