Celebrating 10 Years of Cardiac Electrophysiology!
On November 28, the team of cardiac electrophysiology (EP) celebrated the 10th anniversary of the first EP-lab at the Montreal General Hospital (MGH).
---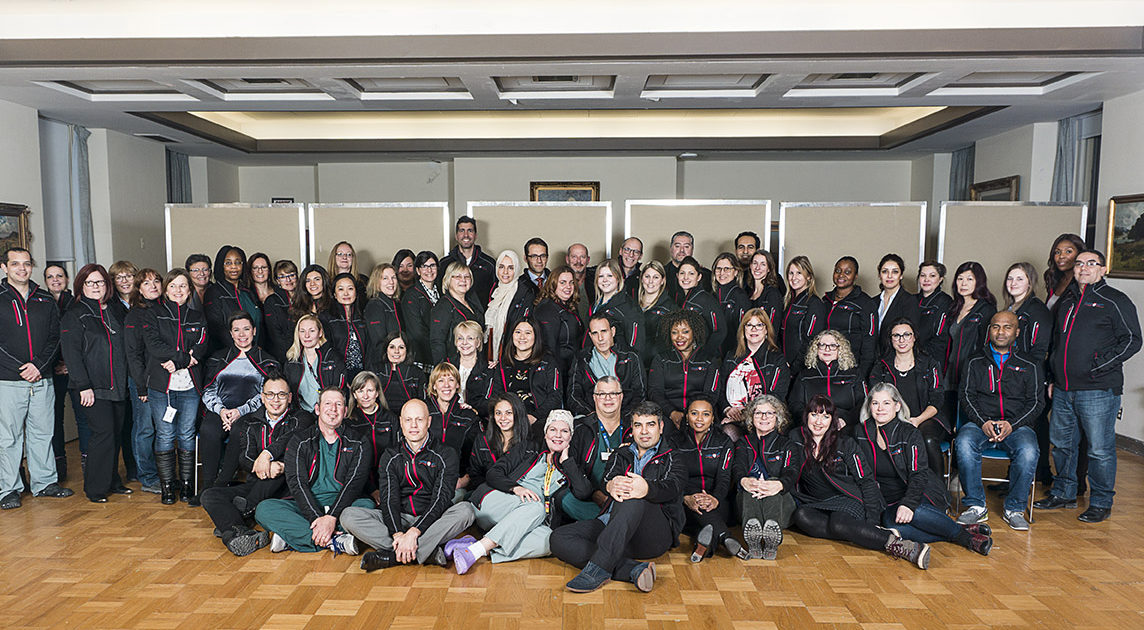 During the wine and cheese event, all 88 members received a special jacket identifying them as part of the team. A small yet great event to thank the EP staff for their work and to highlight 10 years of progress!
Cardiac electrophysiology focuses on diagnosis and management of cardiac arrhythmias. It is one of the fastest growing subspecialty areas in cardiology. Each year in the McGill University Health Centre (MUHC), over 1200 devices are implanted, including over 400 implantable cardioverter defibrillator (ICD) and cardiac resynchronization therapy (CRT) devices. Over 600 EP studies and ablation procedures have also been performed in 2016.
10 years of electrophysiology at the MUHC
The first Electrophysiology lab was opened in July 2007 at the MGH. It was operated by a very small team: Dr. Essebag, Dr. Hadjis, and two or three nurses. Back then, this dedicated EP room was used to implant pacemakers and defibrillators.
In 2011, a fully equipped state of the art biplane electrophysiology laboratory was added to the
electrophysiology suite and the team was then able to perform simple and complex ablations of different types of cardiac arrhythmias.
Electrophysiology today in the MUHC
The team now includes nine interventional nurses, two X-Ray technologists, a nursing assistant, two secretaries and multiple other team members, such as electrocardiogram (ECG) technicians, echography department staff, pacemaker clinic nurses and technicians, a large research team, and four international fellows specializing in cardiac electrophysiology.
A total of eight interventional electrophysiologists (4 full-time and 4 part-time) work at the MUHC and three procedure rooms are now available for them to use, one at the Glen and two at the MGH. Since cardiac ablations are increasing in number every year, the construction of an additional EP lab is planned.
Specialized electrophysiology clinics happen at the Glen site and provide cardiac electrophysiology expertise to patients with heart failure, congenital cardiac anomalies or complex cardiac arrhythmias. A cardiac genetics clinic has also been developed and combines the expertise of cardiologists trained in the management of inherited cardiac arrhythmia syndromes, medical geneticists, and genetic counselors.
Specialized device follow-up clinics exist at the Glen site as well as at the MGH, treating over 5000 patients per year. On call coverage for electrophysiology emergencies is also provided 24 hours per day throughout the year by MUHC electrophysiologists.