$17 Million to Fight Lung, Esophageal and Stomach Cancers
---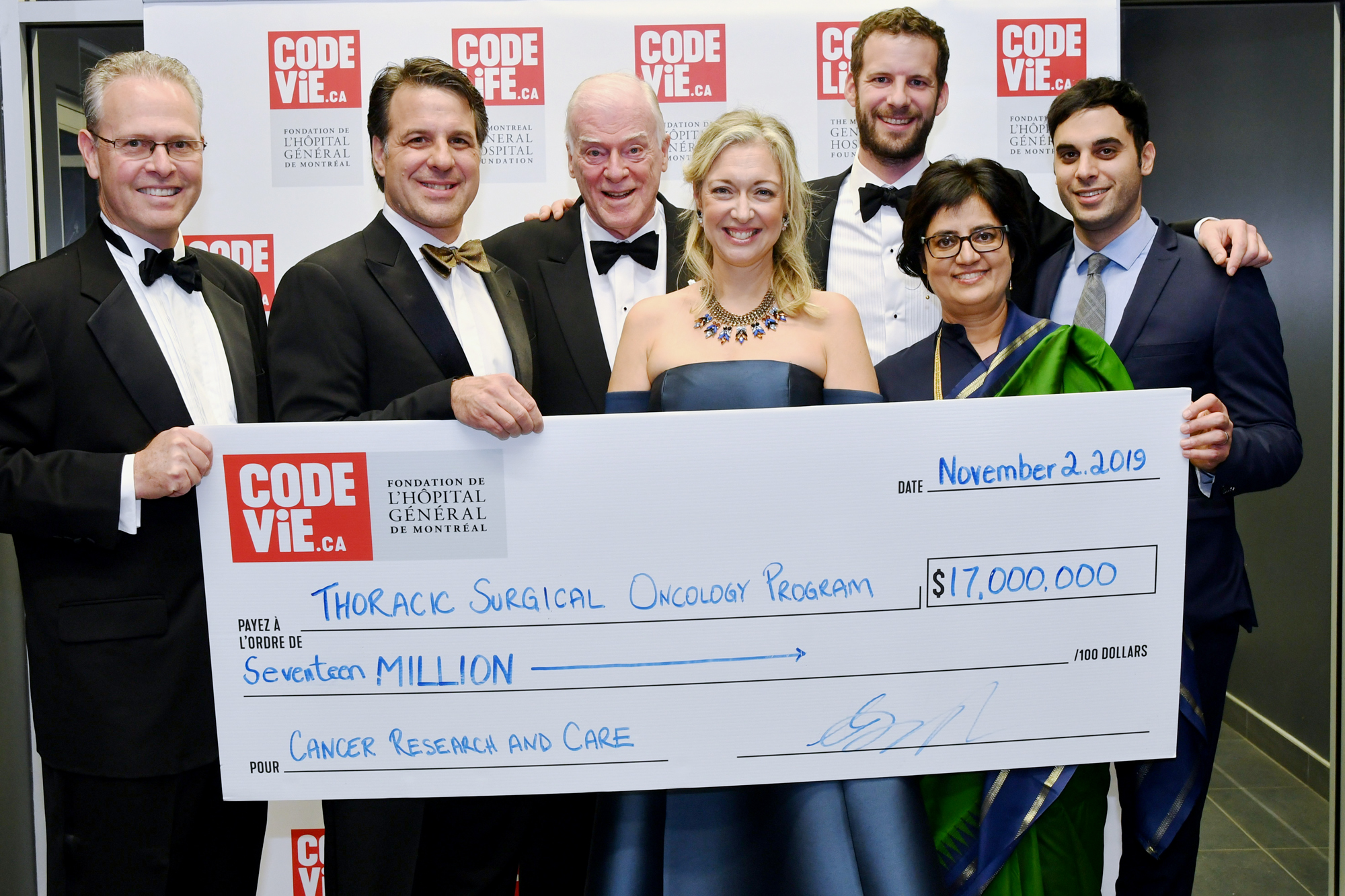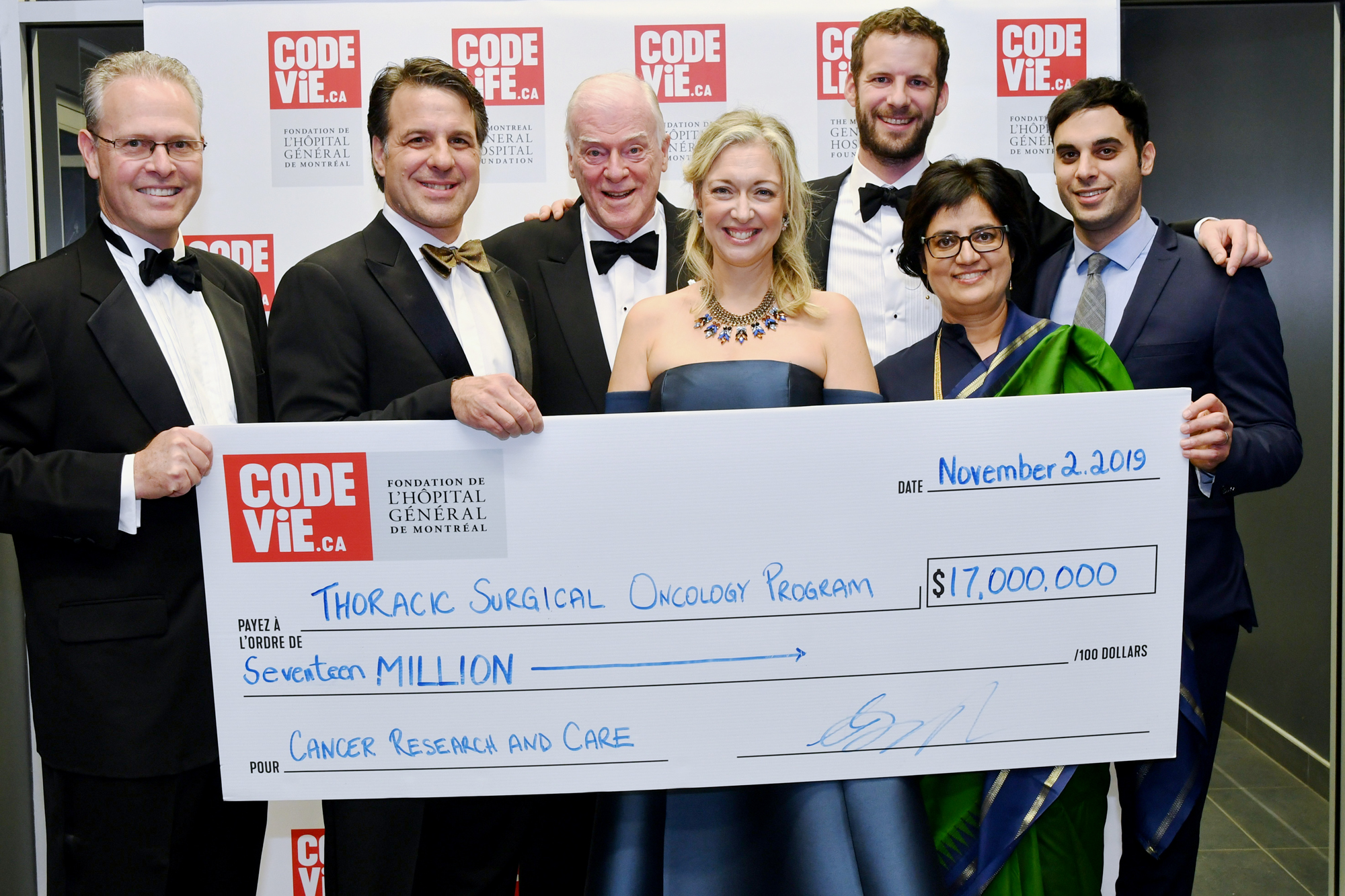 The Montreal General Hospital Foundation has announced essential support for the fight against thoracic cancers, with $17 million in donations presented to the Montreal General Hospital's Division of Thoracic Surgery at the McGill University Health Centre (MUHC). The amount is part of the MGH Foundation's current CODE LiFE campaign, aimed at raising $100 million to support centres of excellence at the Montreal General Hospital (MGH) and within the McGill health network.
Across the country, lung, esophageal and stomach cancers are the fastest growing and most lethal types of cancer, with a five-year survival rate of less than 20%.
"Our donors are committed to the fight against thoracic cancers and we are proud to see their support grow year after year," says Jean-Guy Gourdeau, President and CEO of the Montreal General Hospital Foundation. "The amounts invested by the government are insufficient to drive research, and that's why the community's support via philanthropy is essential for medical progress."
The Montreal General Hospital's Division of Thoracic Surgery has the largest esophageal cancer program in Canada and one of the largest lung cancer programs in the country. In addition, the Division is the only facility to have received the Minister of Health's Level 4 designation for lung cancer, denoting that it offers the highest standard of integrated patient care, research and education in Quebec. It offers a "one-stop shop" approach to complex cancer care.
"This major donation from the Montreal General Hospital Foundation, for which the MUHC is more than grateful, shows the extent to which the original and ambitious initiatives of the members of the Division of Thoracic Surgery are a source of hope for people with cancer," says Dr. Pierre Gfeller, President and Executive Director of the MUHC. "I'm thrilled by the MUHC's ability to optimize care and research in lung, esophageal and stomach cancers by using a multidisciplinary approach with our teams."
Rethink patient care
Led by Dr. Lorenzo Ferri, the team works closely with hospitals and patients across Quebec, including the Jewish General, St. Mary's, Lakeshore General, Verdun and Gatineau hospitals, as well as the Centre hospitalier de l'Université de Sherbrooke (CHUS) and the Centre hospitalier universitaire de Québec (CHUQ). Cutting-edge equipment, such as an ultrasound machine and specialized gastroscopes and bronchoscopes, enable immediate assessment of tumours, to ensure centralized, personalized cancer care for patients.
At the national and international levels, the team of clinician-researchers has distinguished itself both by the quality of patient care and by the innovation it has demonstrated in its various research endeavours. Its researchers are working to identify new personalized treatment approaches to beat cancer, among other approaches by developing one of Canada's first living biobanks, enabling the identification of cancer genetics and choice of appropriate treatments. These combined efforts are aimed at limiting the negative impacts of surgery and treatments on patients' quality of life, while increasing their chances of survival.
Testing treatments on live tissue instead of patients
The MGH's Division of Thoracic Surgery has developed one of Canada's first living biobanks. Populated with active cancer tissues, the biobank is an amazing tool requiring dedicated, ultra-specialized team members and facilities. Cancer tissue is collected during surgery and then grown in a laboratory to create organoids derived from the patient.
These organoids faithfully reproduce the patient's cancer, enabling the team to verify the cancer genetics with a view to choosing appropriate treatments. Even more interesting, researchers can use the organoids to test a wide array of treatments simultaneously.
"We can test 10, 15 or even 20 drugs at a time and choose the one with the best chance of working for our patient," explains Dr. Jonathan Cools-Lartigue, thoracic surgeon and researcher at the Montreal General Hospital. "That's something that's extremely new. It's something that's extremely exciting. It saves a lot of time. It saves the person a lot of potential suffering because you don't have to go through toxic drugs that may or may not work."
Immunotherapy, a revolution in oncology
Immunotherapy is a hot topic, and the MGH's thoracic surgeons, in collaboration with researchers around the world, are participating actively in research in this area. Cancer uses certain molecules to put the immune system to sleep. That's how it grows and spreads throughout the body. Immunotherapy consists in administering drugs that focus on these checkpoint inhibitors, to wake up the immune system and allow it to kill the cancer cells.
"The idea is to use all of the millions of years of evolution accumulated by our innate immune system," explains Dr. Jonathan Spicer, thoracic surgeon at the Montreal General Hospital and Director of the MUHC's Thoracic Oncology Program. "Patients generally respond very well to this new approach, which is way less toxic than traditional treatments. Immunotherapy has literally doubled the survival rate of a lot of patients with stage 4 cancers, whether it's in melanoma, lung cancer or bladder cancers."
Earlier this year, Dr. Spicer used immunotherapy to treat one of his patients, making the MUHC the first of 145 international lung cancer treatment centres to undertake the third phase of a major research project on the use of immunotherapy prior to surgery.
Reducing the impact of otherwise highly invasive surgery
"Thoracic surgeries are among the most invasive," explains Dr. Lorenzo Ferri, head of the Division of Thoracic Surgery and director of the MUHC's Upper Gastrointestinal Cancer Program.  "We sometimes compare these surgeries to being hit by an 18-wheeler. That's why it's so important for us to offer less invasive alternatives when possible. For example, we were the first hospital in North America to use an endoscopic technique involving insertion of our instruments via the mouth to dissect submucosal tumours. We remain the program that treats the largest volume of patients in Canada in this area."
The method described by Dr. Ferri consists in removing certain esophageal tumours without having to make long incisions to take out the esophagus and stomach and remove whole sections of them. The new technique means a much quicker recovery for patients, who are also less limited in terms of food choices and daily activities.
Attracting top talent
When asked, Dr. Ferri's team of researchers say that they have chosen to work at the MGH and MUHC because of the importance placed on research and the advancement of medical knowledge. The institution's international reputation and the support granted to young researchers, allowing them freedom to exercise their scientific creativity, are also among the main incentives.
Investments that make a difference 
The Montreal General Hospital Foundation has been investing for many years in research and care for thoracic cancer patients. Cutting-edge equipment has been purchased, an entire laboratory is dedicated to thoracic oncology research and, above all, an ultra-specialized team has been formed to cover all targeted angles of research.
The $17M in donations announced today will support the research projects of the Division of Thoracic Surgery, including those related to immunotherapy, to patient-derived organoids and to minimally invasive surgery.
The team's objective is to improve thoracic cancer prognoses, reduce the impact of treatment on patients' quality of life and, in a slightly more distant future, virtually eliminate the use of surgery.