Diving Gear to PPE: an innovative trajectory
Montreal, June 4, 2020. The Montreal General Hospital Foundation (MGHF), working with the Research Institute of the McGill University Health Centre, has launched an innovative research initiative to adapt full-face snorkel masks as a reusable alternative to N95 masks.
---
Among the many issues confronting health care workers in the COVID-19 pandemic, the availability of Personal Protective Equipment (PPE) has loomed large. "There's not a single hotspot in the COVID crisis that has not been preoccupied by possible shortages of PPEs," says Dr. Dan Deckelbaum, Trauma Surgeon and Critical Care Physician at the Montreal General Hospital (MGH).
Following a hospital meeting where the specter of N95 mask shortages was raised, and inspired by news reports of full-face snorkel masks being used in Italy and Belgium as N95 substitutes, Deckelbaum contacted a friend involved in the diving world and together they visited a local diving shop. Snorkel masks are designed to keep water out when one is submerged, so Deckelbaum performed some informal tests to check the mask's seal against air by putting a glove over the snorkel hole. The mask passed this first test – no air was getting in. Then, a potentially bigger challenge awaited.
Support the project : Diving Gear to PPE
"We had to convince everybody at the hospital that snorkel masks were a worthwhile investment," says Deckelbaum. "It usually takes a certain time to get new research projects approved, but we needed to act quickly due to this rapidly evolving sanitary crisis. Luckily, financial support from the Montreal General Hospital Foundation allowed us to purchase a substantial order of full-face snorkel masks."
But before full-face snorkel masks can be deployed in the hospital, they need to be adapted and tested. "Under no circumstances are we just putting them on and using them," says Deckelbaum, who is working with the MGH's multi-disciplinary Alternative PPE Committee – whose members include physicians, nurses, respiratory therapists, infection control specialists, and representatives from hospital administration – to evaluate the masks as part of the approval process.
"First of all, we had to modify them to attach a filter by adding a connector that fits into the snorkel hole and goes to the same filter used in N95 masks." Initially the team experimented with 3D printing to create this connector, but unreliable performance eliminated that option. Luckily, MGH Trauma Chief, Dr. Tarek Razek found the solution they needed through a Danish colleague, Dr. Michael Mølmer. While discussing their respective issues coping with COVID and PPE, they discovered they were working on the same thing; trying to find an alternative with snorkel masks. Therefore, Mølmer introduced our Montreal team to Lasse G. Staal, CEO of AddiFab. Deckelbaum was then able to acquire an appropriate connector manufactured in Denmark. The project also brought in expertise from the Research Institute of the McGill University Health Centre, led by the RI-MUHC's Chief Scientific Officer, Bruce Mazer, a specialist in respiratory diseases, and included McGill professors in biomedical engineering and plastics engineering. Overall, a fantastic collaboration effort.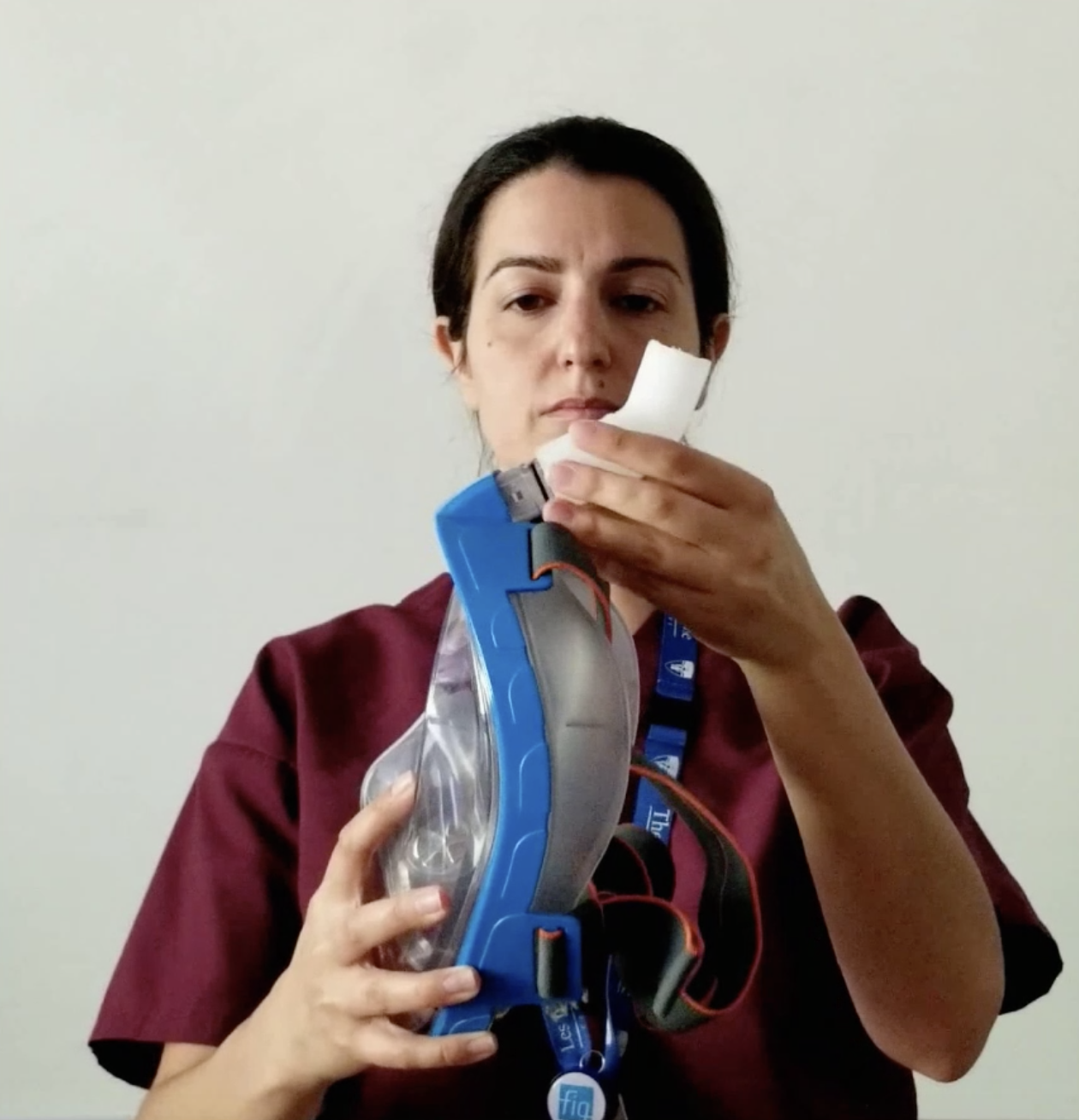 The next step involved ensuring the masks' ongoing reliability. "We need to make sure the mask works, so we do a fit test which assesses how effectively the mask filters out any particles that may infect the user," says Dr. Ewa Rajda, an infectious diseases physician who serves as the MGH's Infection Prevention and Control Officer. "We've found that the mask has an effectiveness equivalent to the N95." The fit-test is personalized: "Every single health care worker that uses one of these masks will be fit tested, so we know that it works for them," she notes.
After being fit-tested on over 50 health-care practitioners, the mask's success rate is exceptionally high. "Several practitioners who have not had an adequate fit on any other mask are now fitting with this mask," says Deckelbaum. "And the vast majority like it. If you wear an N95 longer than 20 minutes, painful pressure sores can develop over the bridge of the nose. The snorkel mask material that touches your face is much softer and more comfortable than the N95, so in general people are quite happy. Communicating through the snorkel mask is more challenging than with the N95, but so long as we speak more loudly and clearly, that's not an issue."
Unlike N95s, the snorkel masks can be reused. Rajda is helping establish a safe and effective process for cleaning and disinfecting the mask, ensuring that this process does not reduce the mask's efficacy. The results are very encouraging. "We've repeated the fit test after 30 rounds of cleaning and disinfection and the fit still holds true," she says. In addition, she has been developing a training program to ensure that people put the mask on and take it off properly. "Removing the mask is particularly important because it may be contaminated," she points out.
"Everybody's starting to recognize that COVID-19 is not going to be an issue for just a few months. There is going to be a chronic phase," says Deckelbaum. "And as we move into this phase, we're going to be looking more into reusable as opposed to disposable PPEs – another advantage of the snorkel mask."
As Deckelbaum notes, the very presence of the snorkel masks has had a positive effect. "Knowing that we have a PPE backup plan has a tremendous impact on mitigating anxiety among health care workers. Therefore, the mask is meeting two important goals: enhancing hospital staff and patient safety by reducing the chance of transmission, while also lowering anxiety among hospital staff."
In conclusion, the adapted snorkel mask is a viable contingency plan. "We're very grateful that the MGH Foundation's strong early understanding of the situation and its vision enabled us to purchase these masks, allowing us to do all the research, testing and modifications required to create a viable and reusable alternative" adds Deckelbaum.
"The MGHF would like to extend its gratitude to the Hewitt Foundation, Montreal Canadiens hockey player Shea Weber, the Tsiolis Family Foundation, and the Mitch and Anne-Marie Garber Foundation, for making this research initiative possible. This kind of generous support for research is essential to allow our medical teams to work on novel, out-of-the-box concepts that will definitely impact health care." says Jean-Guy Gourdeau, President & CEO of the Montreal General Hospital Foundation.
About the Montreal General Hospital Foundation
Since 1973, the Montreal General Hospital Foundation (MGHF) plays a key role within the Montreal General Hospital (MGH) and the McGill University Health Centre as a proud sponsor of significant medical R&D and technology development and acquisition. The MGHF now manages the third largest healthcare fund in Quebec, with $160 million in assets. In accordance with the wishes of donors, the funds raised by the MGHF go toward supporting innovation and excellence in patient care, research programs, acquiring cutting-edge equipment, and helping medical teams with their priority needs. Its leadership and strong relationships with the healthcare community have made the MGHF a sound advisor for donors as to where funds are most needed and can have the greatest impact.
Media Contact:
Sylvie Riendeau
Vice-President, Communications & Marketing
Montreal General Hospital Foundation
sriendeau@codelife.ca
Tel: 1.514.575.1591