Measuring Gait Variation to Prevent Accidents and Diagnose Diseases in the Elderly
---
Your gait says more about you than meets the eye. Even slight modifications in its speed, cadence or stride can indicate early stages of disability, the beginning of cognitive impairment or the presence of different diseases.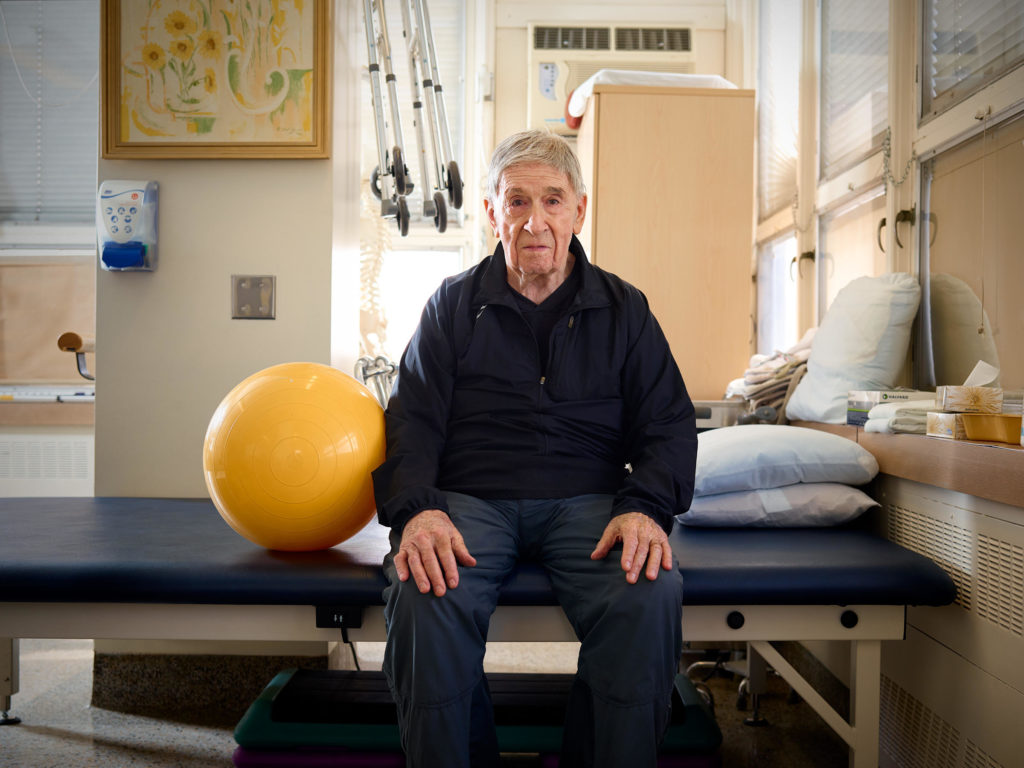 The speed at which a person walks is usually the first indicator. Patients are considered at risk of developing diseases when they are only able to walk 0.8 meters or less per second instead of 1.2 to 1.4 meters, which is the norm.
Why? Because loss of motor function is a vicious circle: when walking becomes challenging, we tend to limit our movements, therefore impacting our lungs, heart and muscles. On a cognitive and psychological level, people whose motor function is decreasing tend to limit their social activities, which can lead to them feeling isolated.
Since gait disorders in the elderly also frequently impair posture and the ability to correct orientation, they increase the likelihood of falling when a patient bends over or turns, and lead to insecure walking due to the fear of falling.
Fortunately, with early detection, it is possible to stop the progression of certain issues and even, given the right tools and care, to turn things around.
An even more precise evaluation
If some gait variations can be detected with the naked eye, some which are more subtle, require access to specialized equipment.
That is why the Montreal General Hospital Foundation has recently supported the purchase of an electronic walkway for the Division of Geriatric Medicine. With this new tool, medical teams can better assess a patient's condition, prevent falls and injuries, and also diagnose cognitive loss and other health issues.
For example, keeping a wide distance between both feet while walking and making short steps instead of long ones can indicate a loss of balance. On the other hand, clapping your feet on the floor as you walk could indicate a lack of sensation under your feet. Dragging your feet on the ground and having trouble getting your movement started could be an early sign of Parkinson's disease.
Doing two things at once
The link between cognitive decline and gait variation has also been demonstrated in a number of studies. The thinking skills required to plan activities or remember chores and elements from a shopping list tend to decline at the same time as the ability to walk fluidly.
To assess this, geriatricians often use the double task test. At first, patients are simply asked to walk straight ahead. Then, a cognitive task is added to the exercise, such as counting backwards for example. This exercise allows specialists to estimate the amount of concentration required to walk and compute information at the same time with access to highly accurate equipment, it becomes even easier to spot cognitive decline early on.
The electronic walkway: what does it do?

The electronic walkway is a very long and wide surface that is put directly on the floor, not much thicker than an exercise matt. Inside the walkway, there is a device composed of multiple sensors, receiving information about foot pressure, gait, balance and other movement protocol. Data from the sensors is then transferred to a computer for analysis.
With this system, medical teams can measure and analyze data such as:
Temporal and spatial parameters
Coefficients of variation
Footfall
Relative pressure
Step and stride
Gait phase
Gait cycle
Velocity
Distance
Coordinates
Center of Pressure (COP)
Static measurements such as quiet standing
Leading edge care for our seniors, thanks to your generosity
The Montreal General Hospital Foundation takes great pride in supporting initiatives and clinical research to improve the wellbeing of our community's elderly population. That is why we are glad to have supported the purchase of the electronic walkway for our Division of Geriatric Medicine.
This would not have been possible without our donors' generosity. In the name of our patients and their families, we would like to thank you all for your support.  There is no doubt that this equipment will greatly benefit our patients, allowing them to get the treatment and care they need.
Help us provide vital care. Make a gift to the CODE LiFE Campaign.