Support Young Adult Mental Health
This first live broadcast was a huge success!
---
On September 10th, we held a virtual and interactive conference on Youth and Young Adult Mental Health and Wellness. This free online event was organized by Dr. Laurie Plotnick and her husband Max Reim, in collaboration with the Montreal General Hospital Foundation. It was the first in a series of innovative activities aimed at revolutionizing the mental health and well-being of young adults.
Watch and Share Online Content
By popular demand, the full evening's content is now available on our YouTube channel, allowing people to watch it again and share it with those who couldn't watch the live event.
Experts Are Listening
More than 700 people registered for the event and were able to ask questions during a live discussion moderated by Florence K and featuring three MUHC specialists: Drs. Howard Margolese, Gail Myhr and Simon Ducharme.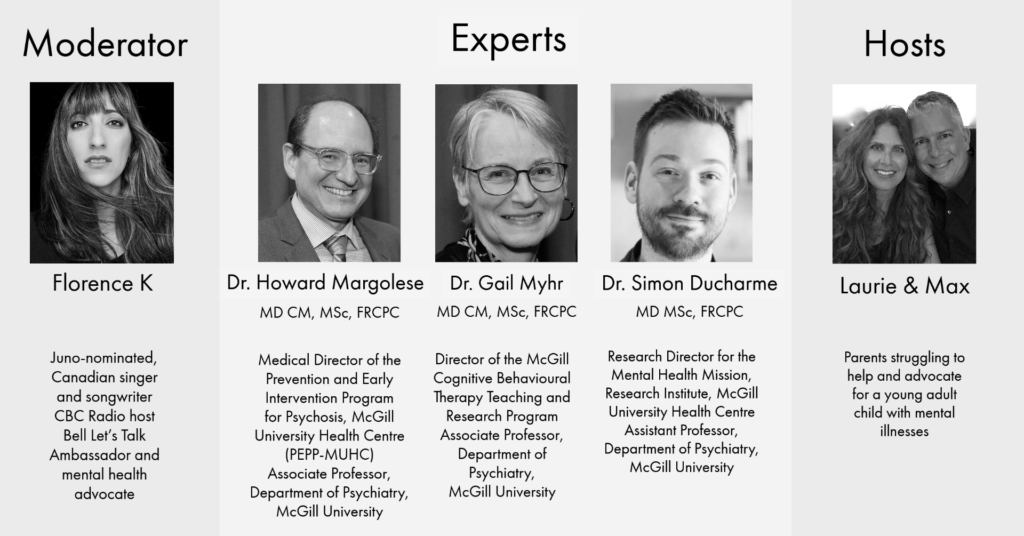 An Open Discussion About Mental Health
The event was also an opportunity for sharing, both in the live chat and in studio, as Laurie and Max talked about the struggles their son has been experiencing for years due to mental illness.
To read their story or view their video testimonial, click here.
There are great needs to be met, starting with better access to care and to resources to help patients and their families. There is also a great need for research, in order to better understand the causes of mental illness.
In order to achieve all that, we need all the support we can get.
We need your support.