The MGH Foundation Mournes the Loss of Barbara Jane Whitley
---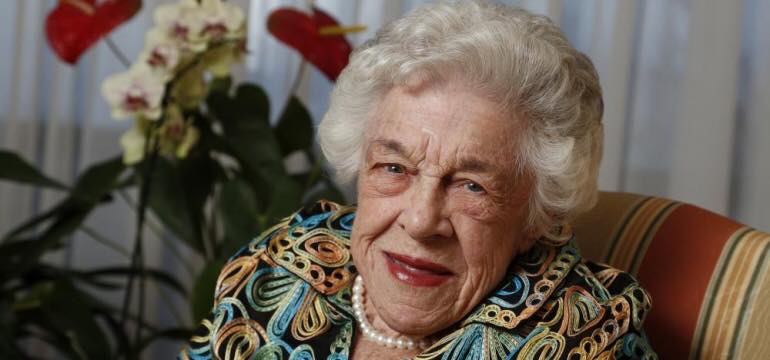 Following a life of extraordinary involvement, generosity and devotion to her family and community, Barbara Jane Whitley passed away quietly at home on Friday, May 18th, in her 101st year.
Barbara's most notable contribution was her 70 plus years of service to the Montreal General Hospital, where she served as president of the Auxiliary and was the first woman ever to serve on the hospital's executive committee. In recognition of her incredible service, she was awarded a Lifetime Achievement Award from the MUHC in 2016.
Barbara, the only child of Ernest Whitley and Gertrude McGill, was a lifelong Montrealer. She attended The Study and went on to earn a degree at McGill University. Here she attracted the attention of famed humourist Stephen Leacock, who invited her to join him on his popular radio broadcasts. This experience ignited her lifelong love for theatre and her talent as a thespian. This passion carried on though her decades-long involvement with the Centaur Theatre and with Geordie Productions. Who could forget one of her final roles, as one of the poisonous sisters in "Arsenic and Old Lace"?  All who were fortunate enough to have known Barbara will also remember her as a captivating story teller and great orator.
Barbara's enduring legacy is her steadfast support of numerous Montreal institutions, both as a volunteer and as a philanthropist.  Her community involvement began in the Second World War, when she served with the Canadian Red Cross. She then took on leadership roles within the Women's Canadian Club and the Junior League.
As a philanthropist, Barbara supported numerous causes, including St. James the Apostle Church and McGill University. In honor of her father, she established the Whitearn Foundation, which supports research of diseases of the eye. She was a devoted "old girl" and loyal supporter of The Study, co-establishing the school's Foundation in 1973.
Barbara never sought recognition for her generosity. However, her long list of honors and awards cannot be overlooked. Most notably, in 1992 she received an honorary doctorate from McGill University, in 2004 the Governor General's Caring Canadian Award, and in 2013 the prestigious Queen Elizabeth II Diamond Jubilee Medal for her outstanding contribution to the community.
Barbara left a lasting impression on all who came to know her. She will be deeply missed by her adoring family and friends, many of whom gathered to celebrate her 100th birthday on April 8. Her family extends a special thank you to Dr. David Mulder, for his care and friendship.
"The most truly generous persons are those who give silently without hope of praise or reward."  (Carol Ryrie Brink)
Funeral services will be held at Mount Royal Cemetery Complex (1297 Chemin de la Foret – entrance only possible through the Outremont Gate due to closing of Camillien-Houde) on Saturday June 9th at 11 am.
In lieu of flowers, donations can be made in memory of Barbara Whitley to the Montreal General Hospital Foundation. You may donate online, call (514) 934-8230 or mail your donation to the MGH Foundation: 1650 Cedar Avenue, E6-129, Montreal, Quebec, H3G 1A4.