The Wave of Support Continues
---
In Montreal, the situation remains complex and our teams are working hard to provide vital care to COVID-19 patients as well as to the rest of our community, all while respecting special measures put in place.
Many of our donors are helping front-line healthcare workers by respecting social distancing and supporting our "Together, providing for our teams" initiative. To all of you: thank you!
Organized groups and businesses have also gotten involved over the past few weeks: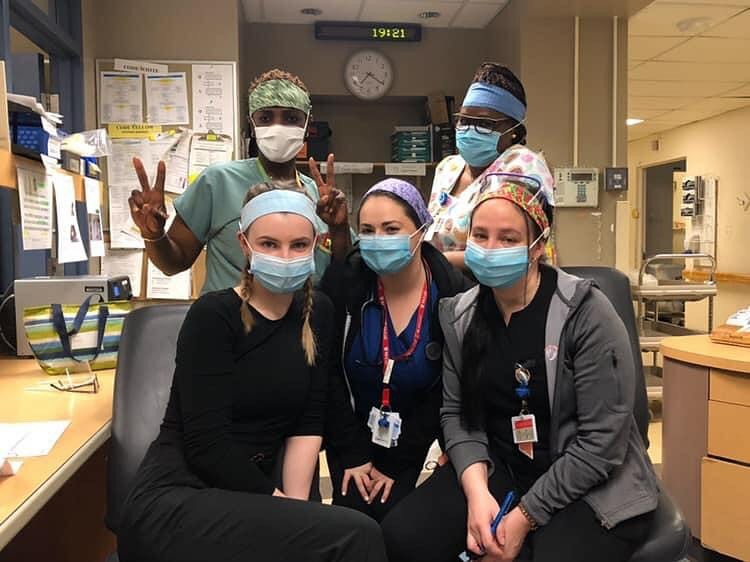 Headbands for Heroes has provided many headbands with buttons. The concept is both simple and ingenious: the buttons are used to attach the elastic bands of surgical masks, giving a break to the back of the ears, which can become irritated over time.
A big thank you to Velan, for the gift of 3,000 surgical masks and 1,000 N95 masks to help us protect our teams as well as the teams at the Jewish General Hospital.
Rio Tinto made a $25,000 gift to help us provide Metro meals to our medical teams.
Leclerc has offered more than 4,000 snacks to the employees of the Montreal General Hospital.
Zevia distributed 2,496 cans of raspberry black tea to help our teams keep their energy levels up during long shifts and BioSteel kept them hydrated with 2,250 servings of hydration drinks.
For those preferring coffee, Yeti provided 500 insulated mugs to help keep their beverage hot during long shifts.
Because MGH employees must follow a very precise routine when they return home in the evening to avoid contaminating their families, we are pleased to have been able to provide them with hygiene products. Dove handed out 5,190 bars and bottles of soap, shower gel and scrub. Biolage also got involved by donating 2,250 bottles of shampoo and conditioner.
The Montreal Sikh community continues its weekly deliveries, with a new shipment of 4,210 snacks sent on May 11th to supply the MGH teams. Since the beginning of the crisis, more than 20,000 snacks have been offered to MGH employees by the Montreal Sikh community.
Bassé Nuts also made a new delivery, offering 576 additional packages of nuts.
Full meals were also offered by Victor Mete, Jacky Eats, MerciMeals Montreal and Mito Sushi to support the teams working directly with COVID-19 patients.
We would like to thank all the individuals, businesses and organizations that have generously supported our teams. With over 2,000 employees working at the MGH to keep our community healthy and safe, every donation and snack is received with the utmost gratitude.
You too can show your appreciation by making a donation to the "Together, providing for our teams" initiative!
Thank You For Your support!