A Message to Donor Community from Leadership of MUHC Foundations
---
Over the past year there have been some differences of opinion between the leadership of the MUHC and the Ministry of Health and Social Services. In an effort to improve the situation and allow for a renewed joint focus on building our institution, the independent members of the MUHC Board of Directors unfortunately recently resigned.
On behalf of the MUHC community we wish to thank the Board for their leadership and commitment to our institution. They played a key role in successfully steering one of the largest hospital moves in the history of Canada. In addition, it is expected that the MUHC will reach budget equilibrium in the current year while continuing to excel in terms of patient care, teaching, and research.
In looking ahead we will focus our efforts upon renewing our volunteer leadership and building a positive working relationship with the Ministry. The MUHC Foundations are working together to achieve these goals, and have been reassured by the willingness of Minister Barrette to collaborate in a forward looking manner, to ensure that the MUHC delivers best in class care while maintaining its mission as a teaching hospital.
We will be collaborating with all MUHC stakeholders and our partners throughout this process and we will be welcoming all feedback. We expect that the situation will evolve over the summer, and we will keep you up-to-date on all further developments.
We are confident that the MUHC is at a turning point and that with your support, a stronger MUHC will soon emerge to the benefit of our patients and their families.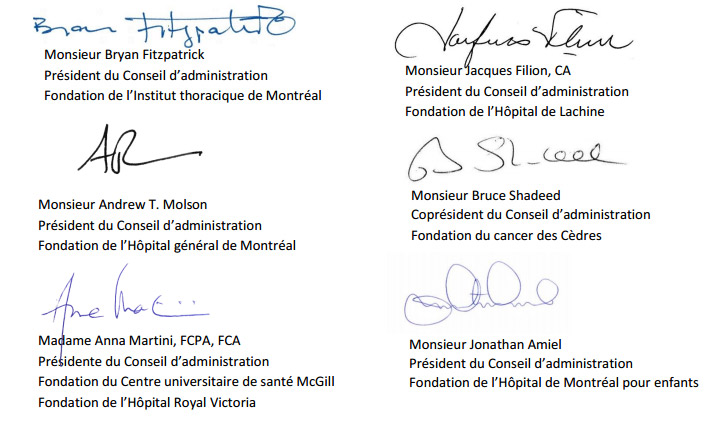 About the MUHC Foundations
The mission of the Foundations of the MUHC – namely the Montreal Chest Institute Foundation, the Montreal General Hospital Foundation, the McGill University Health Centre Foundation / Royal Victoria Hospital Foundation, the Lachine Hospital Foundation, the Cedars Cancer Foundation, the Montreal Children's Hospital Foundation – is to promote first-class healthcare for patients who use our hospital facilities, and support cutting-edge academic research at the MUHC. Our Foundations cooperate together to provide sustainable solutions to our communities' needs, and particularly those of our patients.