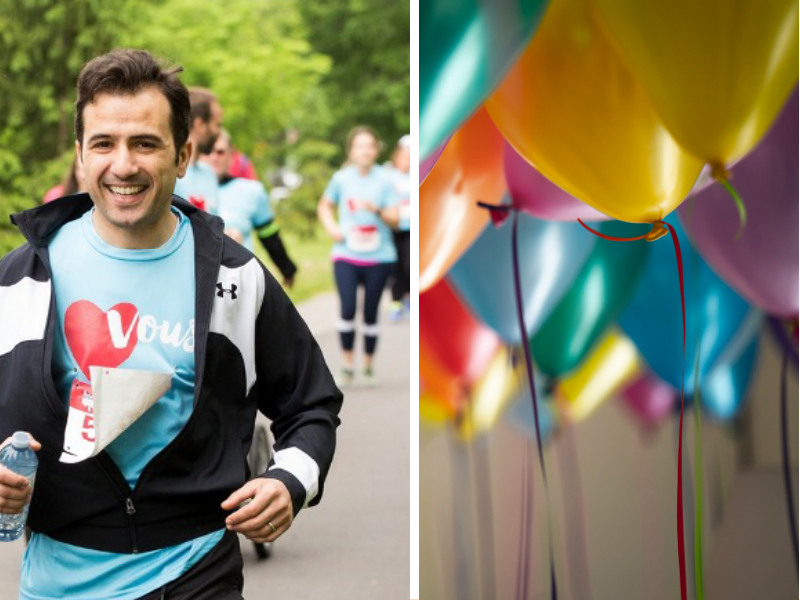 Every year members of the community, past patients as well as family and friends come together to fundraise in support of the Montreal General Hospital Foundation. Events have ranged from golf tournaments, cross-fit competitions, galas, comedy shows and even rock concerts!
Want to organize a fundraiser to support patients and medical teams of the Montreal General Hospital? Amazing! Thanks to our personalized fundraising platform, it is now easy to reach your goal and to solicit your network online!
Community events serve both to raise people's awareness and collect considerable funds, allowing the Montreal General Hospital to maintain and improve its community services, fund research and invest in medical excellence.
Your involvement can make all the difference!
We look forward to working with you throughout the event planning process. Once your event is approved, we will be able to support you in the following ways:
• Event listing on our Calendar of Events
• Promotion of your event on our website and the MUHC website
• Support letter from the Montreal General Hospital Foundation to validate the authenticity of your event
• Event planning advice
• Ongoing weekly communication
• Donation forms
• The use of the Montreal General Hospital Foundation logo*
• Issuance of charitable tax receipts **
*Please note, any use of the Montreal General Hospital Foundation name/logo must be approved by the MGHF Events Coordinator before use.
**As per the Canada Revenue Agency guidelines once a registered charity has determined that a gift has been made, it must determine the eligible amount of that gift for receipting purposes in order to issue an official donation receipt. Expenses of the event will have an impact on the receiptable portion. Please do not promise receipt amounts before the proper calculations are approved by the Foundation.
Now that your event has been approved, it is time to have fun with the planning process. Below is a checklist to get you started:
1. Decide what kind of event you are going to host:
If you are still unsure of an event idea, get some friends together and organize a planning committee to get the creative juices flowing! Motivate each other and play on each individual's skill sets, it is far more rewarding working in a team with individuals who share different strengths.
2. Schedule the Event:
It is always a good idea to overestimate the time it will take to plan an event, in case of minor details that need to be changed. Choosing the venue is just as important as choosing your event date. A good venue is one that will be easily accessible to your guests, and it is always a plus if parking is hassle free.
3. Establish goals:
All events should have a realistic financial goal. Generating a budget is an important step that should be included in the early planning stages, especially for fundraising events. Expenses should be kept to a minimum when planning a fundraising event. As per the Canada Revenue Agency, expenses should not exceed 50% of total revenue, to ensure that all profits will go directly to the cause. Please note that you are responsible for the cost of putting on your event. Our Third Party Events- Guidelines and Authorization Form will be able to guide you so that your fundraising is a success.
4. Submit the Third Party Events- Guidelines and Authorization Form:
Once you have an idea of the type of event you would like to organize we ask for you to fill out this form and return it to info@mghfoundation.com or by fax or mail. We will review your proposal and contact you within 5 business days to discuss the details of your event. Please note, in order to have your event recognized as a fundraiser for the Montreal General Hospital Foundation, your event must be approved.
5. Sponsorship:
Corporate sponsorships are a good way to generate revenue for your fundraising event and can help cover costs of the event. They are usually offered in exchange for visibility at the event or throughout its promotion. To secure this type of sponsorship, think about what type of packages or recognition you can offer in order to attract potential sponsors. Try approaching companies whose mission compliments the cause or department you are raising funds for. Please contact us if you need help with this step.
6. Promotion:
Spread the word directly to friends, colleagues and family members who can assist you in promoting your event. Also consider using social media by creating a Facebook event, starting an Instagram account to post photos the event and its preparation, or even a Twitter account to send short messages to your followers or contact local T.V. or radio stations to get media coverage.
The Montreal General Hospital Foundation is a registered charity and must comply with all rules and regulations set out by the Canada Revenue Agency by law. It is imperative that you understand the rules about tax receipting before your event and it is equally as important to not promise your supporters a receipt amount before confirming with the Foundation. In order to make sure that we are in compliance with the CRA, we will take care of this task to ensure the proper variables and calculations have been considered.
Individuals
Individuals who meet the following criteria are eligible for tax receipts:
• Gift is from the donor, we are unable to provide tax receipts in the name of anyone but the true donor.
• The full name and address including postal code, telephone number and email must be submitted with the donation.
• In the event of ticket purchases for an event (gala, show, sporting event etc.) only a portion of the amount paid can be issued for a tax receipt if benefit(s) are received. Calculations to be determined by your MGHF representative.
• Please note we cannot issue tax receipts for raffle tickets as there is a value in receiving a chance to win a prize in return for the money given.
• If signatory is providing a cheque from ticket sales of multiple individuals, the cheque issuer is to provide a written declaration with a list of donor names, addresses and amounts donated.
Business
Corporations can support your event in the following ways:
• Donations and pledges: Contributions from a business is considered a deductible as a business promotional expense. No tax receipt is required; the MGH Foundation can supply a gift confirmation letter for the fair market value of the donation.
• Sponsorships: By being a sponsor, the corporation is receiving benefits in the form of recognition and advertising. Since they are receiving an advantage for this support we are unable to issue tax receipts. We can issue a gift confirmation letter that can be used to write off their contribution as an expense.
• Donation of Inventory or Gift-In-Kind: The Montreal General Hospital Foundation can provide the donor with a gift-in-kind receipt that states the fair market value of the property donated for your event. This way, the donor does not lose the tax benefit associated with the transfer of goods. Please note that certain scenarios must be validated before confirming the receipt amount.
• Donation of Services: Tax receipts cannot be issued for services provided from a corporation. This includes personal, professional and legal services.
We ask that the proceeds be remitted within 30 days of your event so that they can be used by the respective departments immediately. This also allows us to issue the appropriate tax receipts (if applicable) to your donors in a timely manner. Please note that official charitable receipts dated for the year of your event can only be issued if all money and information is received by December 31st of that year.
By mail
Payments by mail can only be done with cheques. Please note that cheques sent with one signatory must be able to provide a written declaration which includes the names and addresses of donors as well as the amounts donated.
The Montreal General Hospital Foundation
1650 Cedar Avenue
Room E6-129
Montreal QC H3G 1A4
In person
Schedule an appointment with the Events Coordinator to submit the donations in person and also take the opportunity for a photo with the Foundations' "big cheque" as well as the MGH Foundation staff to share with the supporters of your event!
On behalf of current, past and future patients of the Montreal General Hospital, thank you for your contribution through this Community led event. We know that you and your sponsors put in time, patience and great effort!
We would also ask that you extend our thanks to the participants who supported your event. Acknowledging them is an important step in event organizing; let them know how much you appreciate their support and take this time to update them on the funds raised and details for next year's event!