Sinking His Teeth Into Life
---
December 2015: Coming home from work on his bicycle, Frédéric got into a serious crash. A car ahead of him decided to turn left at the last second. He braked as hard as he could but it was too late. The impact was violent: his head hit the side of the car, destroying his jaw and a dozen of his teeth.
Frédéric woke up a week later in the Intensive Care Unit of  the Montreal General Hospital (MGH), hooked up to multiple devices. Miraculously, the surgeons managed to reconstruct his jaw without having to graft bone from his leg or his shoulder blade.
"My time at the hospital taught me that life is fragile. I also realized the extent to which the staff of the Montreal General Hospital — our hospital — care about their patients' health. I will never forget the nurses who took turns tending to me and the surgeons who did everything in their power to make sure that my new condition would not prevent me from playing the sports that I love."
On his first day back at home, Frédéric was already back on his stationary bicycle, despite his remaining injuries and his neck brace. The triathlon enthusiast gradually went back to training, following advice from his medical team.
"Today, I dream of biting into an apple or a corn on the cob. But above all, I want to give back and transform my experience into something positive, something concrete."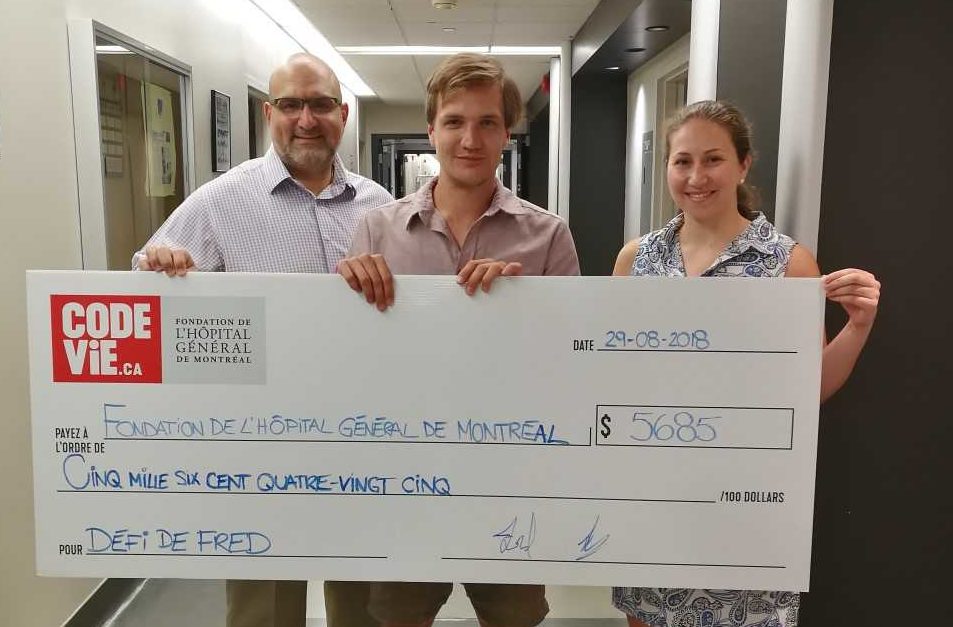 That's exactly what he did! On August 19, Frédéric completed his first Ironman and seized the opportunity to raise funds for the MGH's Oral and Maxillofacial Surgery Clinic.
"Giving back to the clinic was the normal thing to do for me. This team has been supporting me since my accident: they are the ones who reconstructed my jaw and worked with me for the following three years to finish up my dentition. Thanks to them, I'll soon be able to turn the page on my accident and move on to a new chapter."
Frédéric's harrowing journey from patient to Iron Man caught the media's attention, including Global News and Terry Dimonte of CHOM. Thanks to his determination and to the community's generosity, Frédéric surpassed his goal and donated $5685 to the Montreal General Hospital Foundation!
Did you know?
The MUHC Oral and Maxillofacial Surgery Clinic, based at the Montreal General Hospital, offers leading-edge care to thousands of patients and is entrusted to treat some of the most complex cases in the province and beyond. It has developed specialty programs in the treatment and diagnosis of oral cancer, comprehensive facial trauma and complex facial reconstruction.