Vital Support for Vital Care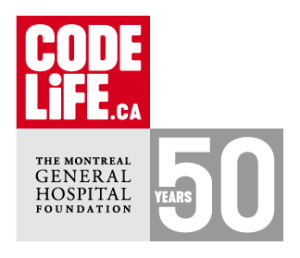 CELEBRATING 50 YEARS OF VITAL SUPPORT THANKS TO YOU
The very definition of "vital" means "essential". That is what YOU are to us here at the Montreal General Hospital Foundation. Our generous donors, Board of Directors, corporate partners, as well as our network of selfless volunteers. Not to mention our dedicated medical leaders who transform this philanthropy into vital healthcare solutions for the benefit of all.
THANK YOU!
50 Years of Vital Support Make Transformative Health Initiatives a Reality
TOGETHER WE ARE BUILDING THE FUTURE!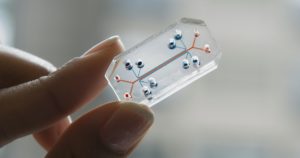 In an era where sophisticated artificial intelligence (AI) and complex robotics are revolutionizing medicine at an accelerated and exciting pace, we have become a major player in this new frontier. Together, we will continue to invest in innovation and excellence to build the future of medicine. We are just getting started. A tremendous and heartfelt thank you for the last 50 years. We know that the next 50 will be just as exciting and decisive. Thank you for standing by our side.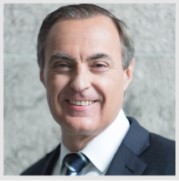 ''Jean-Guy Gourdeau's leadership helped forge a strong, innovative, accountable organization with a supportive team spirit dedicated to the MGH Foundation's whole community. His work has been exemplary and has allowed the organization to grow both in terms of its size, impact and community awareness. Through Stephanie Riddell's appointment, the Board of Directors is recognizing her leadership and her ability to engage with all stakeholders in an authentic, passionate and collaborative way. Our Foundation has ambitious goals, and Stephanie will continue to build our organization and bring it to the next level as we celebrate the 50th anniversary of the Foundation this year.''
– Jean-Christophe Bédos, Chair of the Board of Directors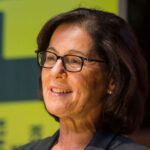 ''In honour of the Montreal General Hospital Foundation's 50th anniversary, I would like to acknowledge its support for tremendous advances and discoveries in medical research. The generosity of its community has broken new ground, turning bold ideas into concrete progress, inspiring generations of researchers at the Research Institute of the McGill University Health Centre. May this 50th anniversary mark the beginning of a new era of medical research and innovation.''
– Dr. Rhian Touyz, Executive Director and Chief Scientific Officer, Research Institute of the McGill University Health Centre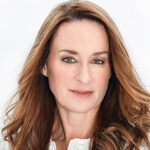 "I am honoured to pursue this successful collaboration with the MGH Foundation to further improve patient care. Together, we will shape the future of medicine, transforming lives and creating lasting impact. This inspiring collaboration is a commitment to even more extraordinary achievements in the years to come."
– Dr. Lucie Opatrny, President and Executive Director, McGill University Health Centre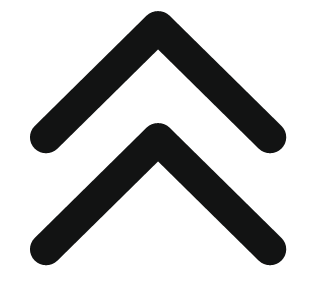 Return to menu
Your Impact in Numbers
AN OUTSTANDING YEAR THANKS TO YOUR GENEROSITY
This year, we are thrilled to report that we raised $23.3M in total gifts. Major donations accounted for a large part of the revenues, in addition to planned giving and annual giving.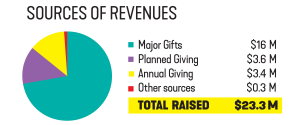 We continue to support research to provide our community with the best healthcare and patient journey. During 2022-2023, $7.1M was invested in research and $1.9M in education and in training to further the knowledge of medical teams. Taking care of patients is a high priority: $3.7M was invested in support of patient care.

Our administrative expenditures ratio of 13.4% means that your donations can go a long way and go directly where they are needed and matter most. This would not have been possible without the amazing generosity of our community combined with the hard work of our team and our Board of Directors.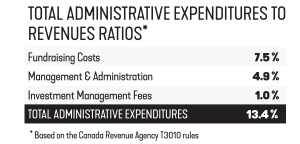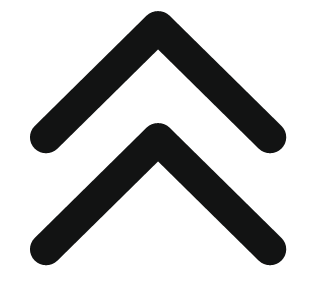 Return to menu
Our Committed Community
A sincere thank you to all those who are involved with the Foundation, your engagement makes all the difference! We acknowledge the commitment of our volunteers, our Board of Directors and our CODE LiFE Leaders, who act as ambassadors to support the MGH Foundation's efforts. THANK YOU!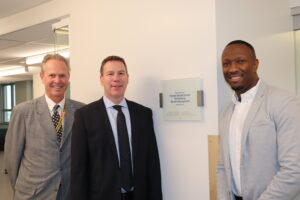 Return to menu
Healthy Living
Thanks to you, our dear donors, the Foundation funds several clinical programs that help patients achieve a healthier life and a better recovery. Healthy living is possible thanks to cutting-edge projects in Gastroenterology, Geriatrics, Cardiology, Mental health and much more!
Healthy Aging
Physical pain, reduced mobility, and a fear of falling renders already vulnerable seniors more susceptible. This results in serious injuries, such as assorted fractures or head trauma in 10% of these falls. According to Dr. José A. Morais, this is a very real public health issue.
Dr. Karine Igartúa, MUHC Psychiatrist-in-Chief and co-founder of the McGill Sexual Identity Clinic, discusses research that will improve care for mental illness and shed light on gender identity questions; innovative programs that reduce hospital stays and promote faster crisis recovery; and the vital importance of lifelong mental health education.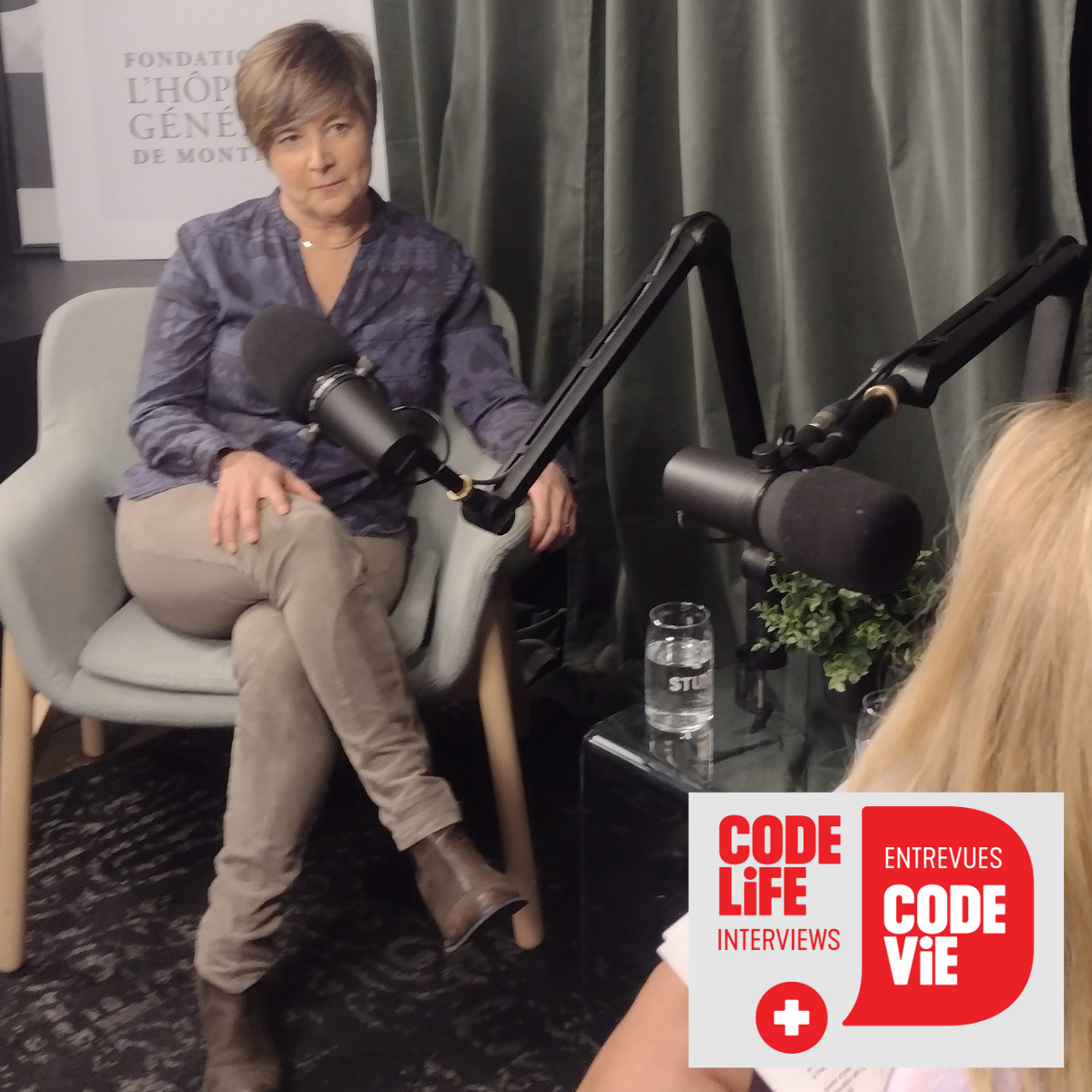 Innovative Mental Health Care: Dr. Karine Igartúa
Monday May 1st, 2023
---
Dr. Karine Igartúa, psychiatrist-in-chief at the MUHC and co-founder of the McGill University Sexual Identity Centre, speaks with Annie DeMelt. In just 23 minutes, they cover topics ranging from the research that will improve the treatment of mental illnesses and shed light on gender identity questions; innovative programs that reduce hospital stays and promote faster …
Fall Prevention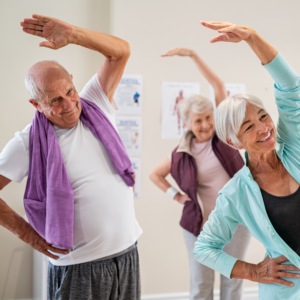 The Senior Adult Fitness Exercises (SAFE) program, powered by CODE LiFE, is an initiative spearheaded by Dr. José A. Morais. The website offers a series of free physical exercise videos to improve seniors' fitness and quality of life. Used frequently and regularly by home care workers and caregivers, SAFE is an invitation to join forces as a community to prevent falls among our seniors and to promote healthy aging. This initiative is an effective way to reduce the pressure on hospital services.
A profound appreciation to our partners, the Grace Dart Foundation, Scotiabank and the Amelia and Lino Saputo Foundation, whose generosity and support have made SAFE's creation possible.
Senior Adult Fitness Exercises
Since its inception, interest in SAFE has been outstanding! With a media reach of over 9 million impressions, close to 50 media stories, over 20,000 followers on social networks and over 75,000 website users, SAFE is an accessible, free and valuable resource.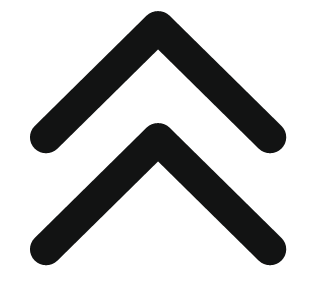 Return to menu
The Future Of Surgery
The 'Future of Surgery' is an ambitious plan that aims to provide safer, more personalized care and improved patient recovery. Dr. Feldman, who leads the Future of Surgery project, imagines a world where lengthy hospitalizations after surgery can be avoided — at a substantial savings to a financially strained healthcare system.
This $35 million initiative aims to improve patient outcomes by implementing Enhanced Recovery After Surgery (ERAS) pathways, as well as using robotic surgery. This vision is shared by our generous donors: five million dollars have already been donated this year and this is only the beginning!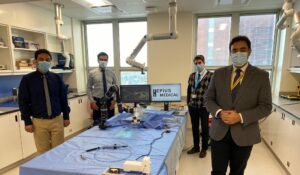 The Clinical Innovation Platform (CLIP) is a unique health technology incubator based at the Montreal General Hospital (MUHC). CLIP aims to support innovative solutions to unmet clinical needs and accelerate the adoption of technologies into the market and healthcare system.
Co-founders of Holo-Ray, Amir Hooshiar and Amir Sayadi, are the recipients of the Marika Zelenka Roy Simnovation Award, awarded by the FHGM as part of the 2022 McGill Clinical Innovation Competition. Through this support and the CLIP, they have access to a highly specialized space to conduct their research and build prototypes.
In this interview, Drs. Jeremy Grushka and Evan Wong, trauma surgeons at the MGH, discuss the realities and challenges of care in Northern Quebec communities. They regularly travel to Nunavik and James Bay to provide much-needed medical care through the Montreal General Hospital's David S. Mulder Trauma Centre, one of only three tertiary units in Quebec.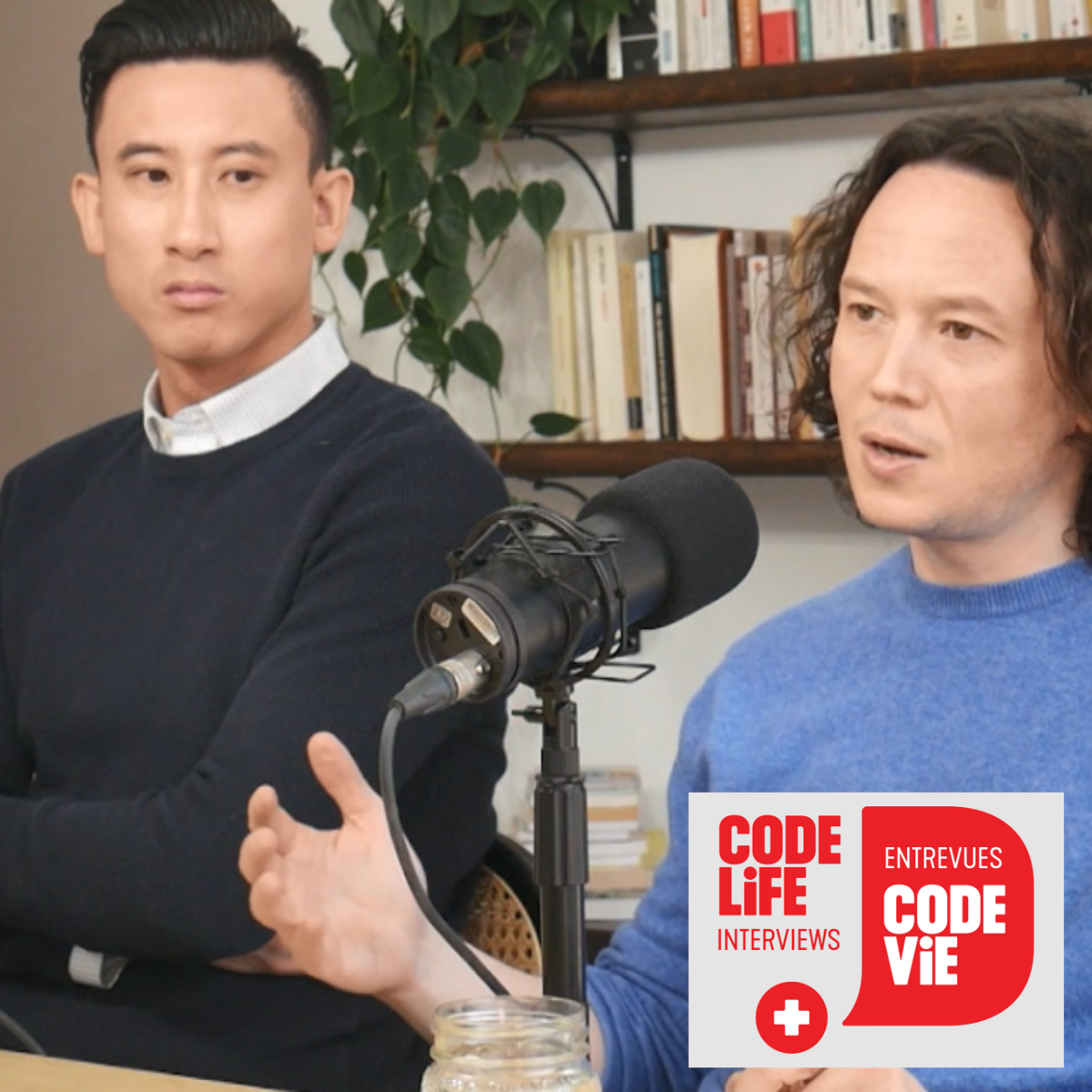 Trauma Care in Northern Quebec: Drs Jeremy Grushka and Evan Wong
Monday March 20th, 2023
---
"Current care in terms of surgery in our Indigenous communities is a hot public health issue. We're not treating patients the same. That's painful to say, but that is the truth." – Dr. Jeremy Grushka, Trauma Surgeon, MGH-MUHC The Montreal General Hospital's Trauma Centre is responsible for a territory that expands well beyond Montreal and … Return to menu
Personalized Cancer Care
The Montreal General Hospital's Thoracic Surgery Division has the largest esophageal cancer program in Canada and one of the largest lung cancer programs in the country. As a provincial referral center, the team conducts a multitude of innovative research projects, as well as collaborating on international projects, with the goal of developing personalized care and reducing the use of invasive surgery for the treatment of thoracic cancers.
Improving personalized cancer care is a huge priority for you, as it is for us. Thank you for your ongoing vital support!
Cancer and immunotherapy
This episode of the CODE LiFE Interview showcases Dr. Jonathan Spicer's plans to improve access to immunotherapy treatments. Dr. Spicer is part of the remarkable progress being made at the Montreal General Hospital to ensure that more people have access to cutting-edge cancer treatments.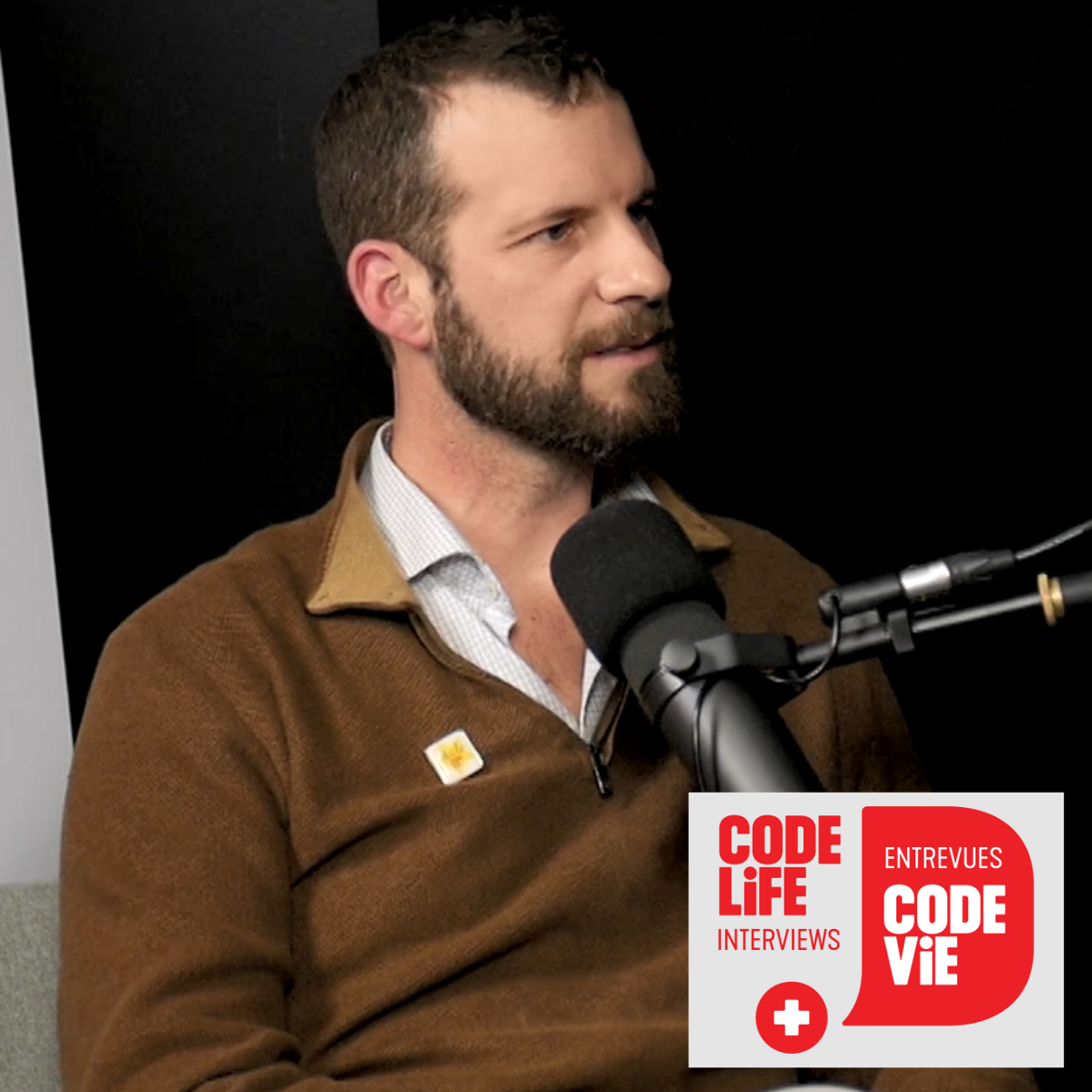 Equitable Access to Innovative Cancer Care: Dr. Jonathan Spicer
Friday February 3rd, 2023
---
Across the country, lung, esophageal and stomach cancers are the fastest growing and the most lethal, with a five-year survival rate of less than 20%. However, in the last few years, there have been remarkable advances in the treatment of thoracic cancers, and the surgeons at the Montreal General Hospital have contributed directly to these …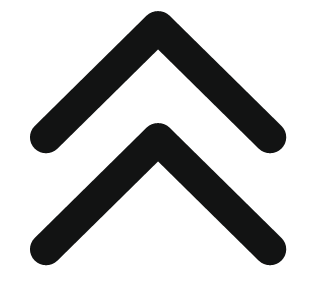 Return to menu
Étoile CODE ViE  Recognition Program
This year, we launched our Étoile CODE ViE Recognition Program, allowing those who wish to do so to recognize the contribution of an MGH staff member. Thanks to your generosity, over 150 gifts have already been received!
Your words of support are an incredible motivation for the entire hospital staff!
Would you like to pay tribute to someone who has made a difference in your patient trajectory? You can do so here or by visiting us at our office!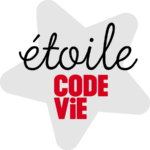 Some of our "Étoile" recipients :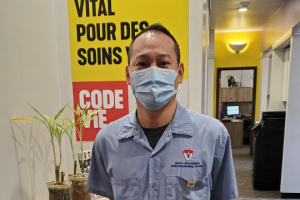 Jay, from maintenance, happily received his Étoile CODE ViE in recognition of his help and hard work!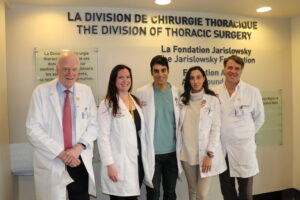 : Several members of the Thoracic Surgery team proudly received their Étoile CODE ViE pins. From left to right, Dr. David S. Mulder, nurse Erin Cronin, Dr. Jonathan Cools-Lartigue, Dr. Sara Najmeh and Dr. Lorenzo Ferri.
Our Loyal Community of Philanthropists
Open The Doors To Osler Fundraising Campaign
During the year, the MGH Foundation sought the support of its medical community to raise $500,000 to bring the new Osler Auditorium back to life. Thank you to every Doctor and Division who took part in it!