AI Imaging and Trauma Care: The Focus of This Year's Marika Zelenka Roy Prizes
---
Marika Zelenka Roy Prizes Awarded at the 2023 McGill Clinical Innovation Competition (CLIC)
Innovation is at the core of CODE LiFE: The Montreal General Hospital Foundation's vision. It is a privilege to be part of the McGill CLIC: an initiative that enables the development of new and transformative medical technologies for the benefit of the community.
The sixth McGill CLIC was held on May 11, 2023. During this inspiring event, six prizes were awarded to innovative and promising startups that will have a direct and positive impact on health care.

This year's winners present sustainable, accessible and simple alternatives that address various issues currently encountered in the health care system, both here or globally. They propose methods and tools to improve training for physicians, and evaluation, prognosis and outcomes for care recipients.
The Marika Zelenka Roy Innovation Prize is given in partnership with the Montreal General Hospital Foundation and consists of two award categories with a total value of nearly $15,000 in monetary prizes and over $25,000 in additional support. The first award (Marika Zelenka Roy Innovation Prize) recognizes the best solution to an unmet clinical need for patient care. The second award (Marika Zelenka Roy Simnovation's prize) recognizes an innovation that improves patient safety and quality of care, or addresses an unmet clinical need, through simulation.
These awards are made possible through the generosity of Marika Zelenka Roy herself. Thank to her endorsement, professionals and students from diverse backgrounds can work together and use their health sciences, business and engineering knowledge to improve patient care.
This Year's Award Recipients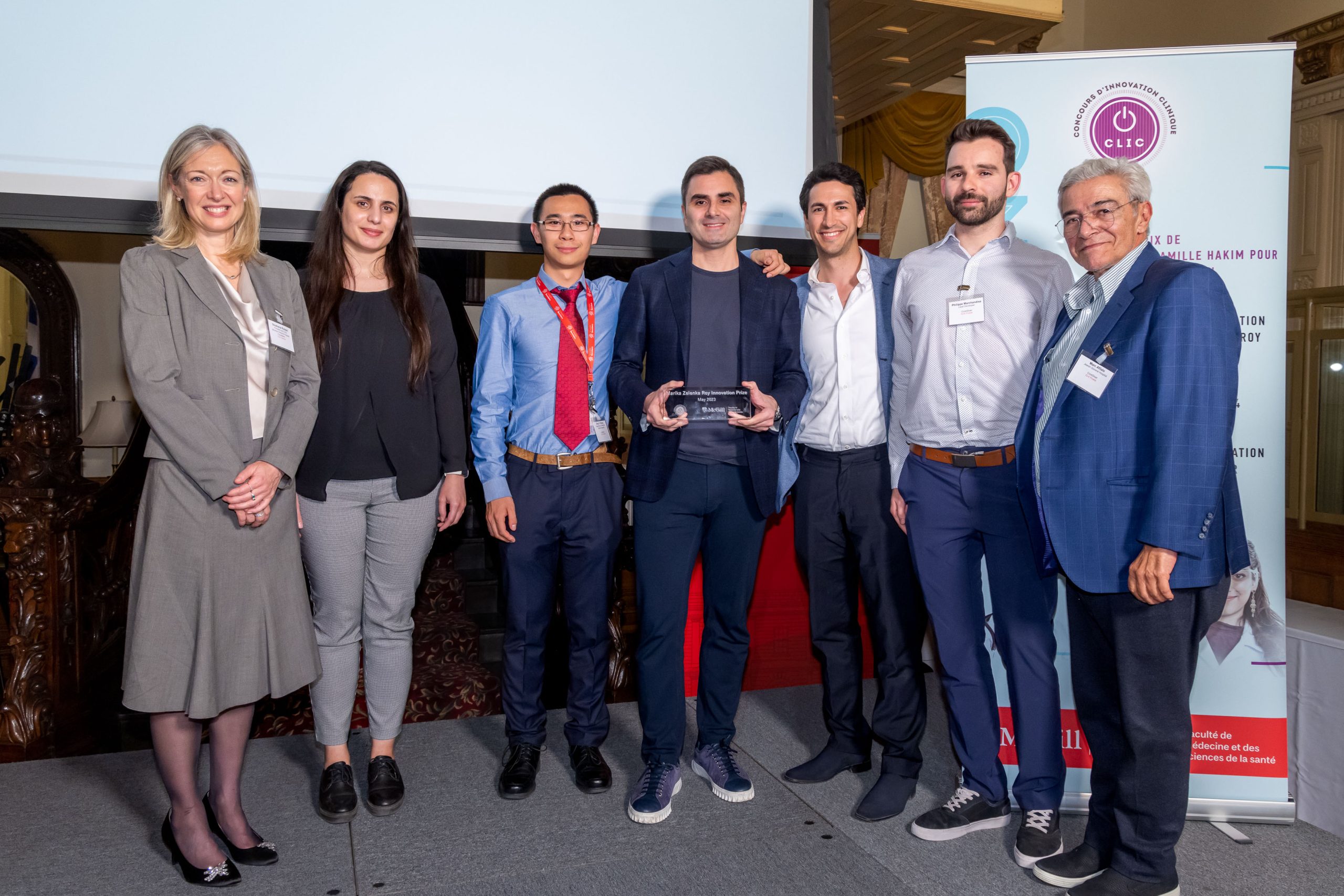 CoreSlicer, an AI imaging software for precise body analytics was awarded The Marika Zelenka Roy Innovation Prize.  CoreSlicer is a cloud-based AI platform that takes available medical images, such as CT, MRI, and ultrasound scans, and automates the measurement of frailty and body composition). The insights provided by CoreSlicer empower clinicians to provide personalized care to vulnerable senior patients. Ultimately, this can prevent postoperative complications, fatal adverse events, and emergency readmissions.
The founders of this startup are Jonathan Afilalo, MD, MSc., Philippe Marchandise, Ding Yi Zhang, Zara Vajihi, Magueye Diagne, Jeremie Abitbol, Ibrahim Mohamed, Robert Viengkhou, Louis Mullie, MD, MSc. and  Marc Afilalo, MD.
The Marika Zelenka Roy Simnovation's prize was awarded to PeTIT VR (Pediatric Trauma Innovative Training). This virtual reality (VR) course is designed to enhance the skills of healthcare students and providers in pediatric trauma care. By taking advantage of the immersive and interactive nature of VR, PeTIT VR provides a unique and effective training experience that increases the quality and safety of care for pediatric trauma patients.
The inventors of PeTIT VR (Pediatric Trauma Innovative Training), are Fabio Botelho, MD, Dan Poenaru, MD,  Elena Guadagno, MLIS and Hamed Ranjbar , MSc.
Sincere congratulations to the winners!