Haply wins the CODE LiFE Ventilator Challenge
---
The Montreal General Hospital Foundation and the Research Institute of the McGill University Health Center (IR-MUHC), in partnership with the McGill Faculty of Engineering, are pleased to announce the winning team of the CODE LiFE Ventilator Challenge: team Haply from Montreal.
The CODE LiFE Ventilator Challenge was officially launched earlier in 2020 with a two-week sprint to design a low-cost, simple, easy-to-use, and easy-to-build ventilator that could serve patients suffering from COVID-19. More than 2,600 registrations were received, representing over 1,000 teams from 94 countries. After extensive testing of their prototypes, three finalists were chosen by a team of world-renowned critical care experts, respiratory therapists, medical device experts, and mechanical ventilator manufacturers.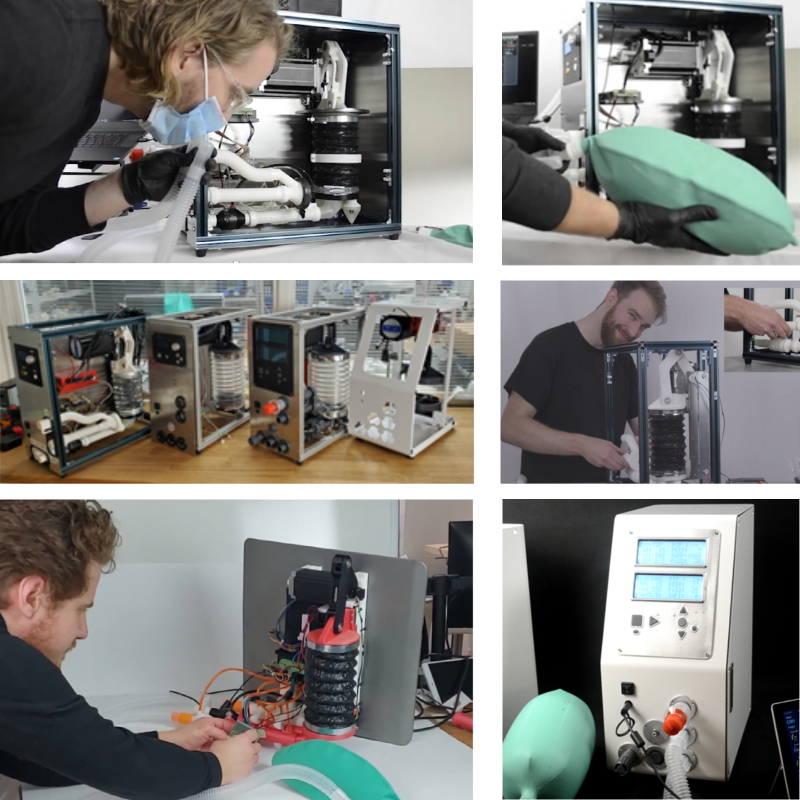 The Haply design was selected as the best of these three on the balance of simplicity in design and operation, as well as cost of production and ease of training. In addition, the judges were impressed by the versatility and anticipated robustness of the design.
"Our experience with the CODE LiFE Ventilator Challenge was incredibly challenging but was one of the most rewarding experiences we have gone through as a team. We were motivated by the disparities between developed and developing nations in access to essential medical technologies like ventilators which have been highlighted by COVID 19. We are incredibly grateful to the organizing committee and specifically to Prof. Reza Farivar, the Montreal General Hospital Foundation, the RI-MUHC, and the McGill Faculty of Engineering for putting together such a meaningful initiative," expressed Colin Gallacher, Co-Founder of Haply Robotics.
Thanks to the tremendous support of the CODE LiFE Ventilator Challenge sponsors, including Scotiabank ®, MD Financial Management Inc., the Canadian Medical Association, and Agorize, as well as some generous private individuals, Haply will now receive the rest of its $200,000 prize.
"We are pleased to support this critical initiative, in partnership with the CMA and MD Financial Management, and would like to congratulate team Haply," says Glen Gowland, Group Head, Global Wealth Management, Scotiabank. "We look forward to seeing the meaningful impact of this winning prototype in Canada and globally."
"We have been honoured to ignite such a significant collaboration and innovation wave that has led to a better shared knowledge of what is needed to build ventilators up to the production of new devices that will be used to save lives." – Jean-Guy Gourdeau, President & CEO of the Montreal General Hospital Foundation.
"McGill's Faculty of Engineering, through its Engine Centre, was honoured to provide expertise throughout the challenge by mobilizing its vast network of alumni and collaborators. This challenge showed once again the strong power of collaboration between those from engineering, medicine, and industry to create innovative and effective designs. We are proud of the winning team, Haply, and we look forward to supporting them going through the final stages of approval." – Jim Nicell, Dean of the Faculty of Engineering of McGill University.
Next steps for Haply

"We congratulate all our participants, especially our hard-working finalists, on their tremendous achievement over the past months. Now, as we celebrate the winning design, we must gather the resources to bring the Haply device to the millions around the world that have—and continue to have—limited access to mechanical ventilators," says Prof. Reza Farivar, Leader of the CODE LiFE Ventilator Challenge and Canada Research Chair in Integrative Neuroscience at McGill University.
McGill University's Faculty of Engineering has raised additional funds, partners, and resources under the banner of the "Made for All" initiative, with the aim of helping get the design through regulatory approval and into production at a cost below $1000, for low- and middle-income countries. Thanks to further support from the Montreal General Hospital Foundation and Joule, $300,000 has been secured, as well as new partners to provide pro-bono specialized support.
About the Research Institute of the McGill University Health Centre
The mission of the RI-MUHC is to generate and leverage discovery and innovation to establish the MUHC as a world-class centre of excellence in patient-centred medicine. Excellence in clinical, evaluative, and fundamental research will bring the innovations that will transform health care, providing an integrated view of disease and patient information with related therapies.
About McGill's Faculty of Engineering
Founded in 1871, the Faculty of Engineering of McGill University in Montreal, Canada, is one of the top-ranked research-intensive engineering and design schools in the world. It prides itself on the excellence of its students, professors, and staff and its global impact through its education and research mission.  The Faculty's renowned engineering, urban planning, and architecture researchers develop solutions to complex problems in sustainability, the built environment, manufacturing, health, and information technology, among others. One of the Faculty of Engineering's recent initiatives, the McGill Engine, promotes technology-based innovation and entrepreneurship through interdisciplinary collaboration and partnerships with the public and private sectors.
About Haply Robotics
Haply Robotics is a team of enthusiastic engineers, designers, and artists united by a passion for building exceptional products. Leveraging our extensive experience in designing electrical, mechanical, and software systems, we accelerate concepts from idea to physical reality in a matter of weeks. We specialize in areas of development surrounding haptic technology and its application to training surgeons and medical professionals in virtual and augmented reality. Founded in 2018, Haply is a fast-growing, Montreal-based company that has remained dedicated to building its team based on a shared pursuit of excellence.