MGH Allergy and Immunology Division – Upcoming Projects Are More Promising Than Ever!
---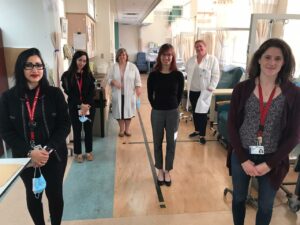 Along with Dr. Genest's initiatives, the MGH Allergy and Immunology Division includes several physicians developing specialized clinical programs for the greater benefit of the population. Allergies should never prevent access to the best treatments, which is why these dedicated doctors are working to improve available treatments for people suffering from the effects of their allergies.
Acute Allergic Reactions to Medications and Implications for Treatment
Dr. Ana Copaescu is currently in the process of developing procedures to identify drugs that cause severe allergic responses among some people. At the moment, when a person has an allergic reaction to a treatment, which often includes several medications, she must, most of the time, change the entire treatment. Considering the lack of tools or indicators to assess THE drug causing the allergic reaction, this solution is often the safest. However, it is not the most efficient, as alternative treatments are not always as effective. By pinpointing the exact source of the reaction, the drug that caused the allergy can be withdrawn to allow the person to continue proper treatment. To develop these complex and specific tests, Dr. Copaescu requires the support of a research coordinator.
Allergy: a Roadblock to the Most Effective Chemotherapy Treatments
Dr. Ghislaine Isabwe has an important project underway: Chemotherapy Desensitization. Unfortunately, some people suffer from allergic reactions to chemotherapy, which has a serious impact on the effectiveness of the treatments offered. However, for Dr. Isabwe, the solution is certainly not to offer second-best treatments, but rather to take the time to desensitize these patients, i.e., to offer smaller doses over a longer period of time to give the body time to adjust to the rejected drug. However, this solution requires time, human resources and space. Without access to these resources, making this program accessible is difficult. To help those most affected by this reality, Dr. Isabwe requires facilities in terms of space and a nurse to coordinate the clinic.
Multidisciplinary Clinic to Treat Esophageal Inflammation
Dr. Natacha Tardio's intention is to develop a multidisciplinary clinic to treat people with the rare disease of esophageal inflammation. This little-known condition, Eosophagitis esinophilus, affects mostly young men with allergies, making them unable to swallow. The clinic would enable the monitoring of patients to assess their improvements. This would be undertaken in collaboration with allergists, gastroenterologists, pathologists and nutritionists.