New Surgical Microscope for the Division of Ophthalmology
---
A Valuable Tool for More Accurate Surgery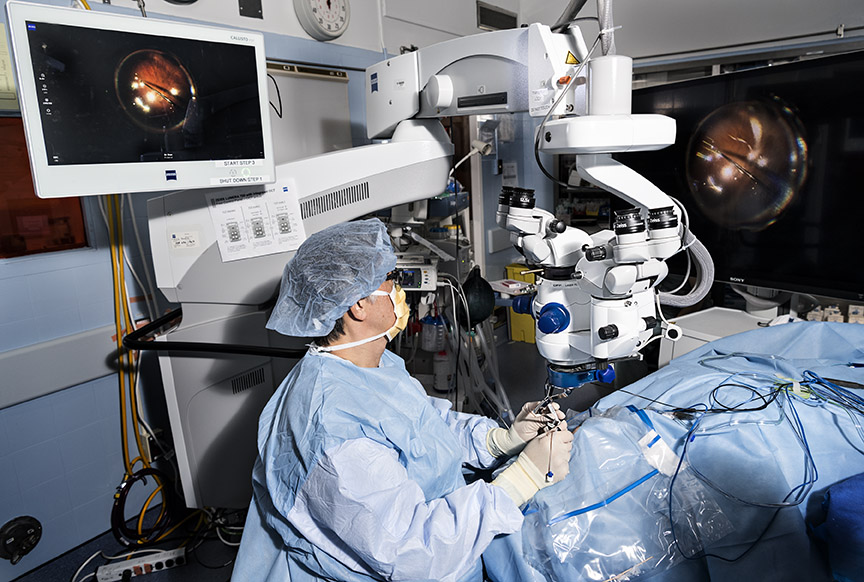 The Montreal General Hospital Foundation, in partnership with Lions International and The Retina Foundation of Canada and thanks to the support of long-time donor Mrs. Gail Jarislowsky, is providing the McGill University Health Centre (MUHC) Division of Ophthalmology with a state-of-the-art surgical microscope with a 3D display system.
The Montreal General Hospital, part of the MUHC, is the first hospital in Canada to adopt this new technology that allows for three-dimensional viewing on a large television screen. This technological advance means more precision during surgeries, and therefore better results for our patients. It will also facilitate the transmission of knowledge to residents and provide greater comfort and ergonomics for surgeons.
"This equipment combines advances in surgical microscope optics, high quality digital imaging and 3-D viewing, and real time tomographic details of surgical pathology" explains Dr. John Chen, Associate Professor, Department of Ophthalmology, Faculty of Medicine, McGill University and Surgeon, Division of Adult Ophthalmology, MUHC. "These advances in imaging technology in retina surgery incorporated in this single equipment revolutionizes the field.  For the first time, the surgeons can have more than one way to get immediate, microscopically detailed feedback at the tissue level with each surgical maneuver. I can see things in such detail that was not previously possible.  Surgical outcome is much improved.  Also, a large, three dimensional projection of the surgical field on a big screen TV facilitates understanding and teaching of this specialty for our residents, students and nurses.  With this equipment acquisition, our Retina Service is now at the forefront of the field, ready to take on new challenges such as gene therapy for previously untreatable genetic degenerative diseases of the retina."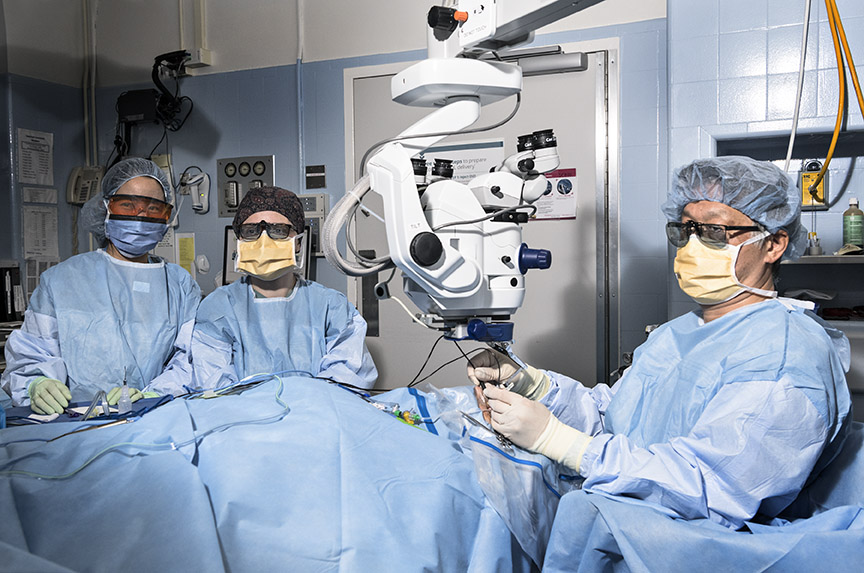 This purchase is part of a broader investment made possible thanks to a collaboration between the MUHC Foundation, Fondation Antoine Trumel as well as the Ministère de la santé et des services sociaux du Québec, allowing the purchase of multiple pieces of cutting-edge equipment, in a common goal to advance retina surgery.
The MUHC's Division of Ophthalmology provides world-class eye care through collaboration among specialists on complex research projects and clinical issues.
Its group of specialized ophthalmologists includes experts in corneal and external diseases, refractive surgery, ultrasound, and medical and surgical retina treatment. In addition, the majority of its clinicians perform cataract surgery, among other procedures.
Located on de Maisonneuve Boul. West, the MUHC Adult Ophthalmology Clinic is the academic home of McGill Ophthalmology. It also houses all of the MUHC's adult ophthalmology outpatient clinics and facilitates multiple clinical research projects in the field.  At the Clinic, patients with complex ophthalmic problems can undergo extensive examinations leading to diagnoses and minor surgeries. In case of emergency, however, they are referred to the Montreal General Hospital (MGH) Emergency Room. The MGH is also the site at which most of the MUHC's ophthalmic surgeries are performed.