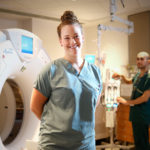 CODE LiFE: The Montreal General Hospital Foundation's mission is to provide vital support for vital care at the Montreal General Hospital, the McGill University Health Centre and, more broadly, within the McGill Academic Health Network.
We champion actionable opportunities to support excellence and innovation in healthcare that transform the lives of patients present and future.
CODE LiFE is our rallying cry to unite donors, philanthropic partners and medical leaders so that, together, we find solutions to the many challenges we face in healthcare.
In accordance with the wishes of our generous donors, the funds raised by the MGHF go toward supporting patient vital care. These vital initiatives all push the limits of modern medicine in their own way.
Our foundation is built around its donors: individuals like you, or someone in your family, who have experienced care first hand and want to give something back; community and business leaders seeking to gain a better understanding of a given health issue or to find a cure for a disease; corporations active in our community and other dedicated foundations, families and trusts.
Protect, extend, and save lives with us!
Support CODE LiFE: The Montreal General Hospital Foundation.