On behalf of the Montreal General Hospital Foundation (MGHF), we wish to express our immense gratitude to all the donors who supported our cause over the past year. Thanks to your generosity, our foundation manages one of the largest healthcare funds in Quebec. Once again, thank you!
In our latest annual report, you will see the significant impact of your contributions in supporting numerous high-level research programs, providing the hospital with cutting-edge equipment and helping meet our medical teams' priority needs.
Vital support for vital care
More than ever, the MGHF's aim is to protect, heal and save lives at the Montreal General Hospital (MGH), the McGill University Health Centre (MUHC) and the larger McGill academic health network.
Moved by this very mission, over the 2018-2019 fiscal year, we have allocated over $14M to support our medical teams in their research projects and development of clinics and programs centred on patients and their experiences.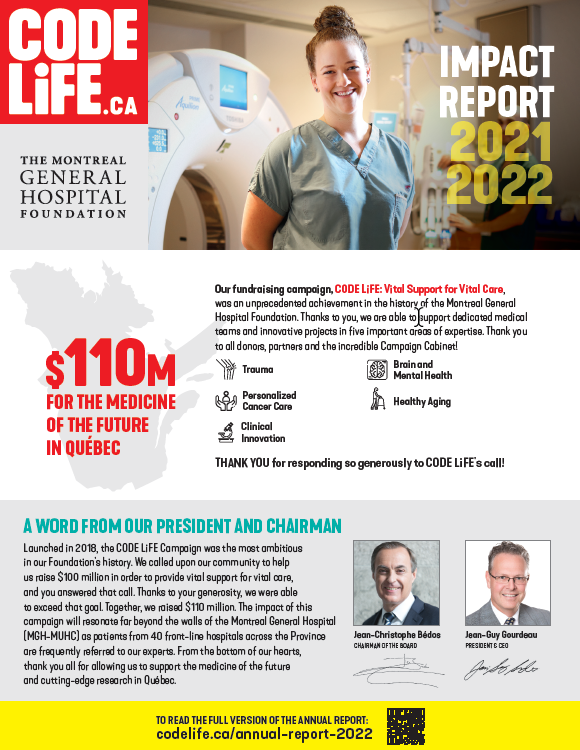 The impact of your donations can be found in our annual reports:
Annual report 2021-2022 – Interactive web version 
Impact report 2021-2022 – Condensed PDF version
Financial statements 2021-2022
Annual report 2020-2021 – Interactive web version 
Annual report 2020-2021 – Full PDF version
Financial statements 2020-2021
Annual report 2019-2020 – Interactive web version
Annual report 2019-2020 – Full PDF version
Financial statements 2019-2020
Annual report 2018-2019 – Interactive web version
Annual report 2018-2019 – Full PDF version
Financial statements 2018-2019