A Special 200th Anniversary Edition of McGill's Holmes VP-Dean Distinction Lectures co-presented by the MGH Foundation
---

Organized by :
McGill and Harvard:
How the opening of two "public" hospitals became anchors for two great medical schools
Join us April 21, 2021, 4:30 pm to 6:00 pm, by clicking here.
This year marks the 200th anniversary of the establishment of both the Montreal General Hospital and McGill University. On this occasion, we are delighted to invite you to a special joint McGill-MGH Bicentennial Holmes Lecture hosted by Dr. David Eidelman, Vice-Principal (Health Affairs) and Dean of the Faculty of Medicine and Health Sciences, Dr. Pierre Gfeller, President and Executive Director of the McGill University Health Centre (MUHC), and Jean-Guy Gourdeau, President & CEO of the Montreal General Hospital Foundation.
Delivering the lecture is the distinguished Dr. Joseph B. Martin, MD, PhD, Edward R. and Anne G. Lefler Professor of Neurobiology, Emeritus, and Dean of Harvard Medical School from 1997-2007, who will present a historical narrative of the opening, in the same year (1821-22), of two great hospitals, the Montreal General and the Massachusetts General. Both institutions were established along two similar principles : a need to care for a population who could not afford home care; and the special relationships of not-for-profit hospitals to their universities.
This presentation will focus on the development of neurology in both hospitals and will feature several individuals who have had the privilege of working at both, including Dr. Martin himself.
A written manuscript will be available upon request.
About Dr. Joseph B. Martin
We spoke to Dr. Martin recently about the historic ties between Montreal and Boston, his Mennonite upbringing, his pioneering neurogenetics research and, of course, hockey. Read the Q&A here.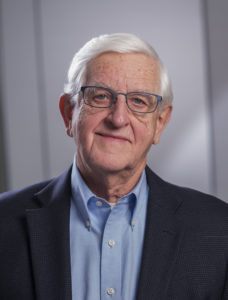 Dr. Martin's life journey has taken him from humble beginnings as a Mennonite farm boy to the highest levels of academic and medical leadership. He held positions of authority at McGill University, the Massachusetts General Hospital, the University of California, San Francisco, and Harvard University, where he established several research centres dedicated to the study of the brain, such as the Massachusetts Alzheimer's Disease Research Center and the Harvard Center for Neurodegeneration and Repair. A member of multiple medical and scientific societies, including the Institute of Medicine of the National Academy of Sciences, Dr. Martin is also the author or co-author of more than 300 scientific articles and reviews.
Dr. Martin has received numerous honorary degrees and awards, including the Association of American Medical Colleges (AAMC) Abraham Flexner Award, which he received in 1999. In 2019, Dr. Martin was inducted as an officer of the Order of Canada and in 2020 was nominated to the Canadian Medical Hall of Fame. He recently published his autobiography "Alfalfa to Ivy; Memoir of a Harvard Medical School Dean", University of Alberta Press, 2011.
Throughout his brilliant career, Dr. Martin has led and witnessed many of the discoveries and events central to the turbulent transformation of medicine that began in the second half of the twentieth century.
To learn more about McGill's bicentennial activities, click here.