Improving Care and Knowledge
---
Mental Health & Wellness
X
Youth & Young Adults
A VIRTUAL AND INTERACTIVE EVENT
SEPTEMBER 10TH, 2020 7:00-8:30 pm
Presentations and live Q&A with experts and sufferers
of mental illness in youth and young adults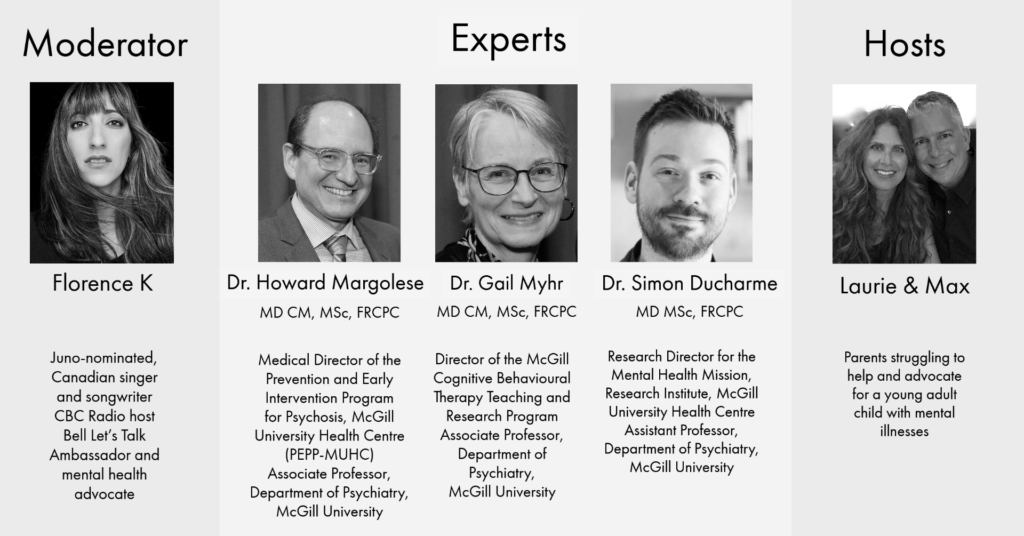 Full bios:  Florence K, Dr. Howard Margolese, Dr. Gail Myhr, Dr. Simon Ducharme and Laurie & Max
This free online event was organized by Dr. Laurie Plotnick and Mr. Max Reim in collaboration with the Montreal General Hospital Foundation and The Montreal Children's Hospital Foundation. The event will be bilingual (English and French).
You were not able to participate in the event, but you want to support the cause?
Click on the button below to make a donation.
Support Young Adult Mental Health
A Revolution for Youth and Young Adult Mental Health and Wellness
This initiative is the first of many ground-breaking activities to revolutionize youth and young adult mental health and wellness. Our mission is to establish and sustain an inclusive global organization and movement based on three pillars:
Awareness - Education and early recognition of mental illnesses in youth and young adults, families and their communities
Access – Easy and rapid access to mental health and wellness information, research, resources and gold-standard treatments
Advancement – Development of more precise diagnostics and effective and personalized treatments leveraging advanced, dynamic technologies
Laurie and Max have experienced the overwhelming challenges of their loved ones who have faced devastating mental illnesses. To read their full story, click here.
They are fully committed to helping millions of others navigate and access state-of the-art mental health resources and treatment. Laurie and Max are extremely grateful for the outpouring of love and support from people around the world.
In collaboration with:
With thanks for their support of youth mental health and the Prevention and Early Intervention Program in Psychosis: