Let's Get Moving for Mental Health!
---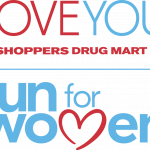 Event: Pharmaprix LOVE YOU Run or Walk for Women
Who: Anyone who cares about mental health
When: June 12, 2022
Where: Parc Maisonneuve in Montreal (or virtually in the location of your choice if you prefer!)
Deadline to register: June 7, 2022
Once again this year, funds raised for the Montreal edition of this Canada-wide event will be donated to the Montreal General Hospital Foundation to support mental health care in our community.
Initiatives supported
The goal of the new Centre for Precision Psychiatry is, over the long term, to be able to predict diagnoses, prognosis and how patients will respond to treatments for their mental illnesses. To achieve this, the team will collect clinical information such as symptoms experienced by patients, biological samples (blood, fluids, tissues, etc.) and images of the brains of patients who have given their consent. A first in Canada!
The Avatar Project will help patients who hear unwanted voices by associating an avatar (an animated digital image) to allow them to interact with them. During therapy sessions, the therapist's voice will animate the avatar to guide the discussion, thereby reducing the severity of the hallucinations. A smartphone app will also be developed to make this type of therapy more easily accessible.
The patient spaces at Allan Memorial Institute are in dire need of an upgrade. Consultation rooms and spaces will be renovated to better serve patients and medical staff.
Team Captain at Work and for a Good Cause:
Virginia participates in the Run for Women for her own wellbeing as well as other's.
"I loved my first experience," explains Virginia. "I had never really run before, nor had my daughter, but we thought, why not! Around us, there were seasoned joggers, but also beginners, people of all ages – I even met someone who just celebrated her 70th birthday! The atmosphere was very energizing and everyone I saw that day left feeling amazing. It was a morning to be with your team and know you were part of something important. "