Hockey 911: $250K Raised to Support Vital Care
---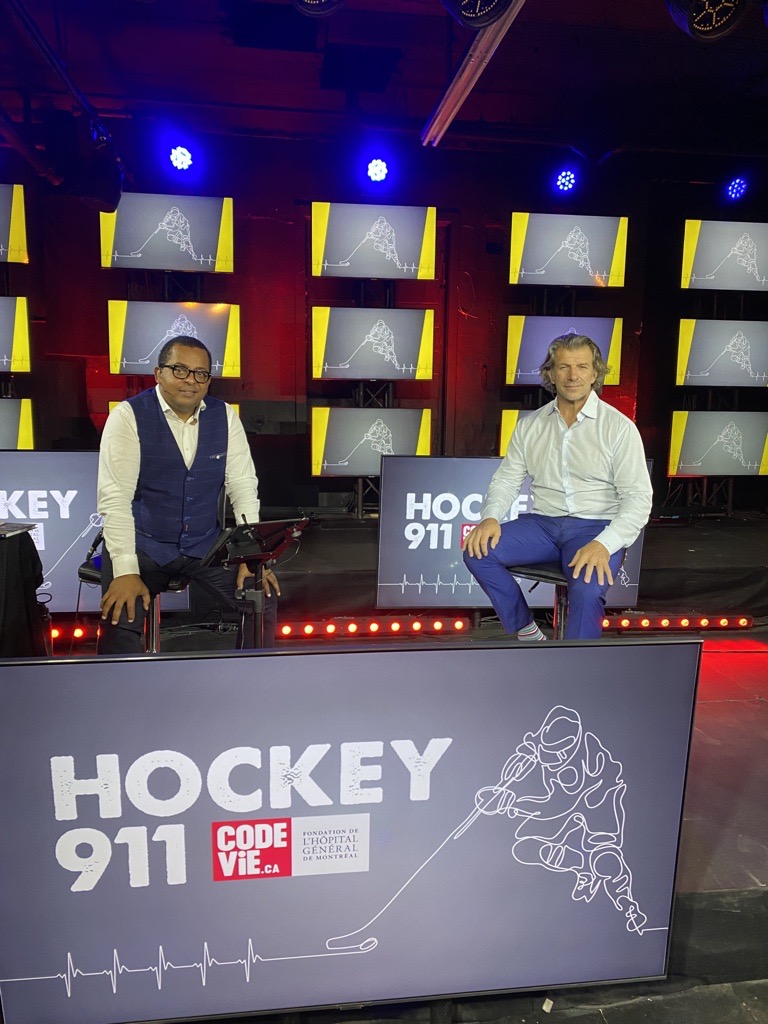 The 3rd edition of Hockey 911, a fundraiser supporting the Montreal General Hospital Foundation, was held on September 22, 2021. The unique and original talk-show formatted event raised $250,000 to support vital care at the Montreal General Hospital and within the McGill University Health Network.
Hundreds of participants gathered virtually to hear the stories linking their favorite hockey players to doctors of the Montreal General Hospital (MGH).
The 2021 line-up was once again impressive: Carey Price, Mario Lemieux, Paul Byron, Marc Bergevin, Marie-Philip Poulin and Mélodie Daoust discussed sports, injuries and mental health with the evening's host and Foundation ambassador, Gregory Charles.
A Few Highlights
In one of his rare on-camera interviews, Mario Lemieux talked about his cancer, but also about his back injuries that prevented him from moving between games when he was a player. Paul Byron said the same thing, admitting that last season, he was unable to walk after some games because of the pain.
After returning from knee surgery, Carey Price said he was ready to start the season again, although he had not yet reached his 100%. He is already in better shape than he was during the playoffs last spring, when his pain was "between 5 and 10".
Marie-Philip Poulin and Mélodie Daoust gave us their feedback on the most recent World Championship where their team won the gold medal. They also opened up about the many injuries they had to overcome over the years.
Injuries and Return to Play
There is a fine line between the players' will to continue playing despite the pain and the moment when it becomes dangerous for their career. As Marc Bergevin pointed out, this is when players turn to their medical teams in whom they have full confidence. For the Montreal Canadiens, these doctors are those of the Montreal General Hospital, a relationship that has lasted for 100 years! Not only do they provide exceptional care for elite athlete, but these are also the same doctors who treat our community.
Hockey 911 has once again succeeded in entertaining, moving and highlighting the remarkable work of the MGH medical teams. The funds raised will be used to modernize the operating rooms as well as a portion of the emergency room used by the trauma teams, two areas of the hospital in need of major renovations in order to adequately serve the medical teams and their patients.
Thank you to our guests, participants, sponsors, organizing committee and all those who donated to the Hockey 911 event. Your vital support allows us to provide vital care to our entire community.   
Our sponsors