One More Step Towards Women's Mental Health
$221,820 to support women in our community
---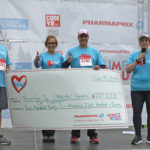 Back at Parc Maisonneuve on June 15, the 2019 edition of the Course pour les Femmes gathered a crowd of 1,800 runners and walkers who were there to support women in our community facing mental health challenges.
Their participation as well as the different activities organized by PHARMAPRIX AIMEZ.VOUS. allowed the run to raise $221,820 for the Montreal General Hospital Foundation, in support of the Mental Health Mission of the McGill University Health Centre (MUHC).
At the Course pour les Femmes, people were invited to Run 5K or 10K or to walk 5K. A special 1K run was also designed for children.
As always, the event was open to all, men and women, who wished to make a difference in their community.
Initiatives supported
The Montreal General Hospital gets 45,000 visits from outpatients on an annual basis and provides most of the mental health services for all of the MUHC. Its teams work to develop and improve the understanding, prevention and treatment of mental illness. Working closely with patients and their families, the Mental Health Mission provides clinical treatment and support programs, pursues ground-breaking research, and trains the next generation of health care.
The funds raised during the Course pour les Femmes will support four initiatives:
Early prevention and detection of perinatal and postpartum depressionon women and their partners using a variety of methods such as genetic screening, online tools and studies of socio-environmental factors.
Research, medical resources and specific tools to better help and support women with Borderline Personality Disorder (BPD) and to facilitate earlier access to appropriate effective treatment.
New research project using Virtual Reality Exposure Therapy (VRET) to treat anxiety disorders such as post-traumatic stress disorder and obsessive-compulsive disorders, two conditions affecting mostly women.
Research project studying the development of psychological distress, anxiety and depression among women living with HIV, in order to develop evidence-based intervention, to improve their well-being and their quality of life.
Take part in the Course pour les Femmes
There is ample research demonstrating the therapeutic benefits of running for mental health. Each year, by taking part in the event or making a pledge, participants help raise awareness about the importance of women's mental health and enable the development of innovative programs. What's more, their participation celebrates the bodies and spirits of women in our community. There are only good reasons to join us next year!
The next edition of the Montreal Course pour les Femmes will take place on June 13, 2020. Until then, you can support the Mental Health Mission by donating online.
PHARMAPRIX AIMEZ.VOUS. Course pour les Femmes