In Memory of Mrs. Kappy Flanders
It is with great sadness that we heard of the passing of Mrs. Kappy Flanders on June 27, 2020. Her courageous battle against cancer ended at the age of 81, at home, surrounded by her loved ones.
---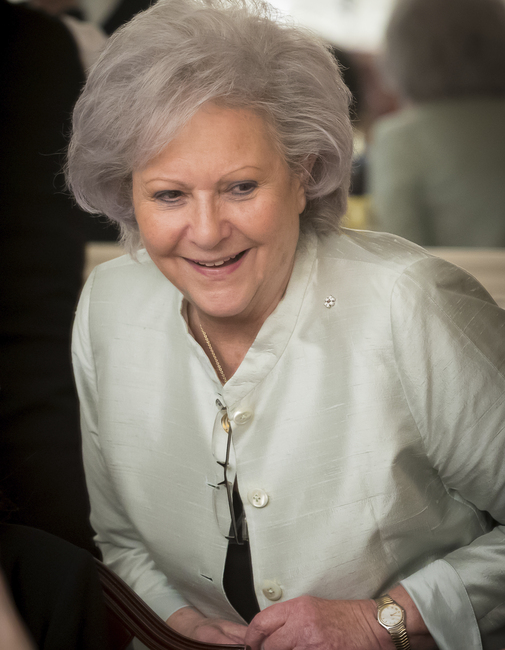 Mrs. Flanders' was a loyal Governor of the Montreal General Hospital Foundation. Her longstanding support of the MGH has allowed our teams to revolutionize lung cancer treatments and palliative care. She believed in the importance of innovation and continuous education, that's why she established the Eric Flanders Lectureship in Lung Cancer in honour of her late husband. For over 20 years, this visiting professorship held a much-anticipated position in the academic calendar and brought leading lung cancer specialists from across the globe to McGill.
These lectureships facilitated cross germination of new paradigms in patient care, research ideas, and clinical trainees between the visitor and the host institution, and without a doubt had a profound lasting impact on the care of those suffering from lung cancer not only here in Montreal, but across Canada.
In thoracic surgical oncology alone, three of our current attending surgeons thank their fellowship training to collaborative partnerships that originated during the Flanders Visiting Professorship in Lung Cancer. Without Kappy's tireless effort, it is unfathomable that McGill would hold the leadership position in lung cancer that it has in the province of Quebec.
Her involvement and her generosity went far beyond the walls of our institution. Today, a vast community is mourning her death, as Mrs. Flanders was also very involved with the Montreal Jewish community and McGill University.
She was a tireless volunteer committed to the palliative care movement. She was instrumental in the development of the Canadian Palliative Care Initiative, a blueprint for enhancing research, scholarship, and promotion of a standardized system for palliative care across the country.
She also formed the McGill Council on Palliative Care, a not-for-profit community-based organization focused on increasing public awareness of and support for palliative care, as well as its availability within and beyond the McGill community. Mrs. Flanders also inaugurated the Eric M. Flanders Chair in Palliative Medicine, the first Chair in palliative medicine in North America.
Mrs. Flanders believed in the importance of supporting our visionaries and most of all, in the importance of action. She once said, "I believe that the world needs people with great ideas, but just as much, it needs people to implement those ideas. People who stick with things, worrying away at them, being persistent, getting things done. If someone has a great idea, I'll work until that idea becomes a reality."
She played an important role in the establishment of what became the Steinberg Centre for Simulation and she introduced the concept of Mini-Med public lecture series at McGill.
In 2003, in recognition of her exceptional contributions to the community, she was awarded the Governor-General's Meritorious Service Medal. In 2009 she received an Honorary Doctor of Laws from McGill and in 2014 she was inducted as a Member of the Order of Canada.
She was the beloved mother and mother-in-law of Susan Flanders and Michael Dickinson, Judith Flanders, Steven Flanders, Elle Flanders and Tamira Sawatzky and loving grandmother of Emma and Allie Flanders.